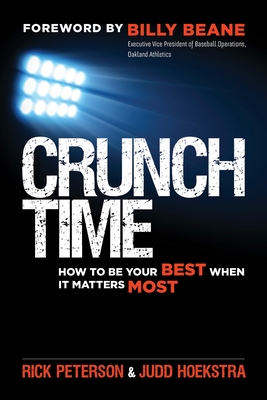 Crunch Time (Paperback)
How to Be Your Best When It Matters Most
Berrett-Koehler Publishers, 9781626567696, 200pp.
Publication Date: January 23, 2017
Description
Be Your Best Under Pressure

Learn how elite athletes like Michael Jordan, Sandy Cofax, Tom Glavin, and Pedro Martinez, deal with pressure. In his 15 years as a major league pitching coach, with "Moneyball" Oakland A's, NY Mets, Milwaukee Brewers and Baltimore Orioles, Rick Peterson has coached Hall of Famers, Cy Young winners, and many other elite athletes. In this book, he and bestselling author and leadership expert, Judd Hoekstra make this skill available to everyone. From an insider's perspective, learn how you too can become a Crunch Time performer and perform your best in all situations. With fascinating behind-the-scenes examples from some of the top names in sports and business, Rick and Judd offer six powerful reframing strategies to help you see a pressure situation with a new perspective so that it shifts from a threat that can make you panic to an opportunity for you to shine. With a Forward by "Money Ball," Billy Beane, EVP, Oakland Athletics.
About the Author
Rick Peterson is one of the most successful coaches in professional sports and has a unique ability to empower others to perform at their best. Judd Hoekstra is a bestselling author, a vice president at The Ken Blanchard Companies, and an expert in making concepts universal and accessible. Billy Beane is Executive Vice President of Baseball Operations for the Oakland Athletics. He has been with the organization since 1993.
Advertisement