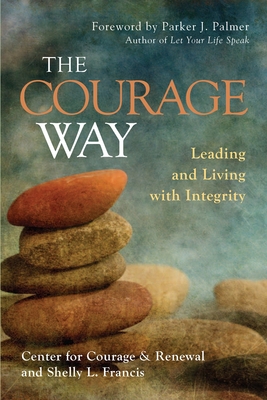 The Courage Way (Hardcover)
Leading and Living with Integrity
Berrett-Koehler Publishers, 9781626567757, 256pp.
Publication Date: February 6, 2018
* Individual store prices may vary.
Description
The Courage Way

Leadership demands courage. You have to make good decisions while balancing inevitable tensions and knowing when to take risks. You need to keep your values in sight regardless of the pressures around you. At its core, leadership is a daily, ongoing practice, a journey toward becoming your best self and inviting others to do the same.

And that's where The Courage Way comes in. It's a guide to leadership that shows how to access and draw upon courage in all that you do. It has its roots in the work of Parker J. Palmer, who in fifty years of teaching, speaking, and writing has explored the human spirit--what he has called "the inner landscape"--and its role in life and leadership.

Shelly Francis identifies key ingredients needed to cultivate courage, the most fundamental being trust--in ourselves and in each other. She describes how to build trust through the Center for Courage & Renewal's Circle of Trust approach, centered around eleven "touchstones," poetic and practical operating guidelines for holding the meaningful conversations vital to trust building. Each chapter features true stories of how leaders have overcome challenges and strengthened their organizations through touchstones such as "Extend invitation, not demand"; "No fixing, saving, advising, or correcting"; and "When the going gets rough, turn to wonder."

This graceful and inspiring book is a guide to courageous leadership and a journey of self-discovery. As Francis writes, "Courage is not only in you--it is you. In your moments of courage, that's when you meet your true self."
About the Author
Shelly L. Francis has been the marketing and communications director at the Center for Courage & Renewal since mid-2012. The common thread throughout her career has been bringing to light "best-kept secrets"--technology, services, resources, ideas--while bringing people together to facilitate collective impact and good work.

The Center for Courage & Renewal, a nonprofit founded in 1997 by Parker J. Palmer, aims to create a more just, compassionate, and healthy world by nurturing personal and professional integrity and the courage to act on it. It has a network of nearly 300 facilitators worldwide. More than 5,000 people participate in Courage & Renewal programs and retreats each year.
Praise For The Courage Way: Leading and Living with Integrity…
"Shelly Francis has written a beautiful and important book. Of all the requisite virtues of conscious leaders, courage is one of the most essential—the courage to do what is needed to promote human flourishing and growth and the courage to withstand the inevitable pressures to conform to business-as-usual and to treat people as disposable and interchangeable objects. This book is the finest treatment I know of this vital subject."
—Raj Sisodia, F. W. Olin Distinguished Professor of Global Business, Babson College, and cofounder and Chairman Emeritus, Conscious Capitalism Inc.

"Our culture and our planet are in crisis. Not shying away from this truth requires courage. Stopping the rat race we are all caught in to discern how we are called to respond requires courage. Acting on that knowing requires courage. How come the word 'courage' is almost completely absent from leadership literature, then? Perhaps because we too often reduce leadership to becoming successful and making it to the top. I'm relieved to find a book that holds us to a higher standard and offers guidance as we wonder: in these peculiar times, how can we find the courage to live the life that wants to be lived through us?" 
—Frederic Laloux, author of Reinventing Organizations

"For many years, the Center for Courage & Renewal has been preparing us for this 'post-truth' era when courageous action is demanded from leaders who care about people and planet. We need leaders who put service over self, who know what they stand for and stand there. We need leaders who are committed to serving people, who recognize what is being lost in the haste to dominate, ignore, and abuse the human spirit. I am deeply grateful for this book as a guide and support for moral leadership as we face the darkening future."
—Margaret Wheatley, author of nine books including, most recently, Who Do We Choose to Be?

"This is the book that won't claim to change your life, which is exactly why you can trust that it probably will. What you will find in these pages is no less than the technology to tune into your true self—your real intuitions and outrage and intelligence—and a sense of how to show up in community with that revitalized understanding of your own power. In a cacophonous world like the one we're living in, I can think of no more critical or renewing opportunity."
—Courtney E. Martin, author of The New Better Off

"The Courage Way gives us a much-needed social technology for self-expression and authentic relationships. With intimate leadership stories, it shows how integrating purpose and cultivating community can be a powerful catalyst for change."
—Aaron Hurst, author of The Purpose Economy and Fast Company's Purposeful CEO Series; cofounder and CEO, Imperative; and founder of the Taproot Foundation

"Leading with integrity and empathy requires vision and a connection to your deepest self. Yet leading people and businesses also requires immense effort and dedication that can isolate you, exhaust you, and even pull you away from your vision and deep connection. Enter The Courage Way, which offers tools, stories, and ideas to help you cultivate your vision and your ability to lead with courage, kindness, humor, and dignity. Shelly Francis illuminates the work of Parker J. Palmer with wit and grace."
—Karla McLaren, M.Ed, author of The Language of Emotions and The Art of Empathy
 
"In this troubled world today, we need to check our moral preferences as leaders and commit to what we value and will defend. In healthcare, I have learned that the secret to quality is love. It is also justice, which is the manifestation of love in our public policies and conduct. The Courage Way offers stories and practices of how the hearts of leaders can stay connected with their moral compass and courage. It shows that what we create collectively arises from the wholeness and compassion we locate within."
—Donald M. Berwick, MD, President Emeritus and Senior Fellow, Institute for Healthcare Improvement; former Administrator of the Centers for Medicare and Medicaid Services
 
"At a time when civil discourse reflects a lack of trust in leadership and when the integrity of our leaders seems in doubt, Shelly Francis offers us a path to renewal. Her insights into cultivating courage through daily practice provide a much-needed guide to authentic leadership aimed at prosperity and flourishing. Essential reading in today's world!"
—Chris Laszlo, PhD, Chair and Chuck Fowler Professor of Business as an Agent of World Benefit, Department of Organizational Behavior, Weatherhead School of Management; Faculty Executive Director, The Fowler Center, Case Western Reserve University; and coauthor (with Judy Sorum Brown) of Flourishing Enterprise
 
"The Courage Way will nourish that part of you that cares deeply about the world. A soulful approach for helping you harness your inner strength to become the kind of leader the world needs now—in every dimension of your life."
—Jono Fisher, founder of WakeUpProject.com  
 
"Everyone should read this book. The Courage Way is a powerful tonic for our challenging times. Keep it close at hand so you can savor its life-giving music again and again."
—Dr. Gloria J. Burgess, distinguished scholar, professor of transformational leadership, and author of Dare to Wear Your Soul on the Outside, Pass It On!, and Flawless Leadership
 
"The Courage Way forever expands the way we think about courage, bringing its many manifestations to life and proving that acts of courage, whether physical, moral, creative, or otherwise, have their seeds within each and every one of us. The poignant stories that Shelly Francis shares make the heroic qualities of courage more understandable and accessible than ever before. This would be an important book at any time, but at this moment, when America is divided and hurting, it illuminates the courage within that promises a way through. Read and re-energize!"
—Billy Shore, founder and CEO, Share Our Strength, and author of The Cathedral Within and The Imaginations of Unreasonable Men
 
"This is an important read for leaders at all levels. I am inspired by the promise and potential of leaders and organizations as forces for good, and this has never been more important in the world. The Courage Way shares time-tested tools, reflections, and guiding principles that every leader can learn and practice. This can move leaders and their organizations toward flourishing through creating human-centered cultures guided by strong ethics and integrity."
—Richard J. Davidson, founder of the Center for Healthy Minds, University of Wisconsin–Madison, and coauthor (with Daniel Goleman) of Altered Traits
 
"The Courage Way by Shelly Francis is a wonderfully written book for all those who wish to lead their personal and professional lives in alignment with what truly matters. Happiness is unthinkable without courage, yet until now, little has been written about how to muster this great virtue. The book is a must-have resource —inspiring!
—Andrea F. Polard, PsyD, founder of Zen Psychology Therapy and author of A Unified Theory of Happiness
 
"What would you do with more courage? From that first provocative question to the last story of people learning to lead and live in deeper alignment with themselves, The Courage Way is a surprising and counterintuitive remedy for the heart-sore. My calling is to sit with those whose hearts have been broken open by their calling, by their deep desire to live life in synchronicity with their truest values, beliefs, wishes, and dreams. The Courage Way offers a way to do that gently, yet it fiercely offers ways forward. Shelly Francis and the Center for Courage & Renewal have again demonstrated their ability to lead each of us into a new way of being."
—Jerry Colonna, Co-founder and CEO of Reboot.io