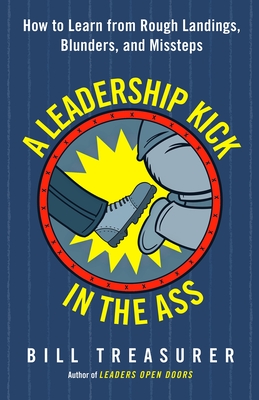 A Leadership Kick in the Ass (Paperback)
How to Learn from Rough Landings, Blunders, and Missteps
Berrett-Koehler Publishers, 9781626568020, 200pp.
Publication Date: January 16, 2017
Other Editions of This Title:
MP3 CD (1/16/2017)
Compact Disc (1/16/2017)
* Individual store prices may vary.
Description
"This is one of the most unique and valuable books you will read all year, and I highly recommend it."
—Jim Kouzes, coauthor of the bestselling and award-winning The Leadership Challenge and Dean's Executive Fellow of Leadership, Leavey School of Business, Santa Clara University

Even the best leaders—in fact, most of the best leaders—start out as decidedly bad ones. And sooner or later they reach a moment of reckoning that leadership expert Bill Treasurer calls the leadership kick in the ass. When it happens, it feels like it's all over. But Treasurer says that with the right attitude, that kick can be a new beginning. Based on his work with thousands of leaders, this book reveals how to turn those ego-bruising events into the kind of transformative experiences that mark the paths of great leaders. As Steve Jobs famously said, "Getting fired was the best thing that ever happened to me." This book is a survival guide, coach, and morale booster to help you use that kick to move forward instead of fall down. If you succeed, the next place you get kicked might be upstairs.
About the Author
Bill Treasurer is chief encouragement officer at Giant Leap Consulting. His clients include NASA, Accenture, Saks Fifth Avenue, UBS Bank, the US Department of Veterans Affairs, and the Pittsburgh Pirates. www.BillTreasurer.com.
Praise For A Leadership Kick in the Ass: How to Learn from Rough Landings, Blunders, and Missteps…
"This is one of the most unique and valuable books you will read all year, and I highly recommend it."
—Jim Kouzes, coauthor of the bestselling and award-winning The Leadership Challenge and Dean's Executive Fellow of Leadership, Leavey School of Business, Santa Clara University

"This book's title may have grabbed your attention, but its core topic—the human ego—is dear to my heart. Using candor and humor in equal measure, Bill Treasurer gets real about the leadership advantages of what I'll just call effective redirection. Ha! This book is not just a fun read—it's a wake-up call for leaders at every level."
—Ken Blanchard, coauthor of The New One Minute Manager® and Collaboration Begins with You

"Failure may not be fun, but as Treasurer has proven in his rich, in-the-trenches experience in business, you can learn more from one failure than from untold wins. A Leadership Kick in the Ass is exactly what you need to pick yourself up, find out what went wrong, and move on, smarter and stronger than ever!"
—Marshall Goldsmith, Thinkers50 #1 Leadership Thinker in the World

"A Leadership Kick in the Ass is, at its core, about two essential human virtues—courage and humility—and a reminder that these two qualities are inextricably linked. Bill Treasurer shows us that it takes a lot of courage to open yourself up to honest feedback from others and how that openness enables you to become more grounded, more aware, more confident, and more caring. At times Bill is highly irreverent and cheeky, but he's always deeply caring and respectful of the difficult challenges leaders face. And Bill does not simply render critiques; every step of the way he offers insightful and practical advice on how you can lead with your best self. Through stories from his personal and coaching experiences, Bill reveals the transformative power of the courage to be human. This is one of the most unique and valuable books you will read all year, and I highly recommend it."
—Jim Kouzes, coauthor of the bestselling and award-winning The Leadership Challenge and Dean's Executive Fellow of Leadership, Leavey School of Business, Santa Clara University

"Bill artfully describes the harsh, if somewhat humbling, reality that leaders do learn some of the most valuable lessons through mess-ups! The approach Bill uses in taking the reader through poignant examples while offering guidance to seize learning opportunities as they occur is but one of the elements that combine to make this a great read!"
—Mark Brashear, CEO, John Varvatos

"Bill Treasurer's over two decades of experience working with leaders comes shining through in this must-read book for all leaders. Bill's no-nonsense approach to calling it as it is, and getting us as leaders to truly look at ourselves with all our 'pimples and warts,' is a refreshing and necessary, albeit sometimes hard, dose of reality we must be willing to face if we truly want to be the best leaders we can. Bill's insights, examples, and action plans throughout the book will help all leaders who have the courage to choose to be better!"
—Jeff Hayes, President and CEO, CPP, Inc.

"Bill has taken one heck of a touchy topic and motivates us to read about our foibles and imperfections. Then he has the audacity to challenge us to be better leaders! With just the right amount of advice added to powerful stories, Bill encourages us to be the best leaders we were meant to be."
—Elaine Biech, author of Training and Development for Dummies

"Bill really delivers with this book—a strong message, great storytelling, and lessons that make us take that hard look in the mirror leading to a more authentic self. Finding and leading from this position will undoubtedly bear fruit for readers of this book."
—Chris Maslin, Director, Biltmore Center for Professional Development

"Leaders make mistakes. Learning from those mistakes and growing takes courage and humility. For over a decade Bill Treasurer has helped shape our future leaders with his candid, courageous style of training. A Leadership Kick in the Ass lights the path to confident, courageous, and inner-centered leadership. I highly recommend this book."
—Matthew Walsh, Cochairman, The Walsh Group

"Bill Treasurer reminds us that every leader is flawed. Every leader can improve, learn new lessons, and make different choices. He doesn't let his readers get stale as leaders. His style is warm yet confrontative. A winning combination for real growth."
—Beverly Kaye, founder and Chair, Career Systems International, and coauthor of Love 'Em or Lose 'Em and Help Them Grow or Watch Them Go

"Bill Treasurer provides proven tools and processes for managers at every phase of their career to grow and thrive in the midst of their biggest disappointments. A must-read if you're serious about improving your leadership."
—Karin Hurt, coauthor of Winning Well

"The greatest lessons in life don't come from success. They come from our missteps, setbacks, and screw-ups. This book will help you turn them into invaluable lessons that you'll one day look back on with gratitude for all they taught you. An invaluable resource for any person who wants to be a truly extraordinary leader."
—Margie Warrell, bestselling author of Stop Playing Safe

"This is a practical book; if you are a leader who hasn't made some big mistakes, you likely aren't leading. This book will help you understand the cause of some mistakes and more importantly help you learn from them. This is a thought-provoking book too; it helps unravel the balance between confidence and humility—an important balance to consider. It's time to start reading."
—Kevin Eikenberry, bestselling author of Remarkable Leadership

"Bill Treasurer offers a valuable guide to leadership through a series of humorous and honest examples, proving that failures are sometimes the most instrumental lessons on the road to success. Whether you're just getting started in your career or are an established executive, A Leadership Kick in the Ass is a pivotal read for anyone who aims to excel as a leader."
—Pierre Naudé, CEO, nCino

"Bill's book helps you reframe life's defeats in a way that builds your compassion, your humility, and most importantly, your capacity to get the best out of those that you lead."
—Conor Neill, Professor, IESE Business School, and Past Area Director, Entrepreneurs' Organization

"As in Courage Goes to Work, once again Bill Treasurer demystifies a nebulous concept into practical terms. In his newest book, he brings this same level of clarity to 'confidence and humility,' a dynamic tension that effective leaders face. He offers practical insights from real leaders' mistakes, straightforward guidance, and thoughtful reflection. A humorous read on a serious topic that can provide readers with a jolt out of cruise control."
—Julia Urbanchuk, Senior Director, Global Talent & Organization Development, eBay