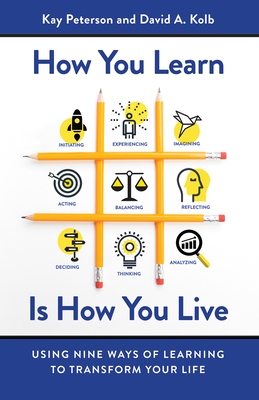 How You Learn Is How You Live (Paperback)
Using Nine Ways of Learning to Transform Your Life
Berrett-Koehler Publishers, 9781626568709, 232pp.
Publication Date: April 17, 2017
Other Editions of This Title:
Compact Disc (4/17/2017)
MP3 CD (4/17/2017)
* Individual store prices may vary.
Description
What's Your Learning Style?

Being a lifelong learner is one of the secrets to happiness, success, and personal fulfillment. But what's the best way to become one? Kay Peterson and David Kolb have the answer. They offer deep, research-based insights into the ideal process of learning and guide you in identifying your dominant style. You'll discover how knowing your learning style can help you with all kinds of everyday challenges, from remembering someone's name to adding a crucial professional skill to your repertoire. This book is a guide to awakening the power of learning that lies within each of us.
About the Author
Kay Peterson is founder and managing director of the Institute for Experiential Learning where she provides training, coaching and assessments to support the use of Experiential Learning and Learning Styles flexibility as a value creation strategy across industries. She is also a founding partner of Harlan Peterson Partners, where she works with individuals and organizations to develop exceptional owners, leaders and entrepreneurs.

David A. Kolb is the creator of Experiential Learning Theory, the founder and chairman of Experience Based Learning Systems, Inc., and professor emeritus at Case Western Reserve University.
Praise For How You Learn Is How You Live: Using Nine Ways of Learning to Transform Your Life…
"Kay Peterson and David Kolb bring nearly a century of research and over 4,000 studies on experiential learning to our fingertips in this pragmatic and profound guide to living life—all of it—as a learner."
—Ronald E. Fry, PhD, Professor, Department of Organizational Behavior, Weatherhead School of Management. Case Western Reserve University

"If you have ever wondered how you learn or why others around you may not be adapting and changing, this book will enlighten you."
—Richard Boyatzis, PhD, Distinguished University Professor, Departments of Psychology, Cognitive Science, and Organizational Behavior, Case Western Reserve University

"The authors have delivered a wonderfully practical and well-crafted exploration of how learning touches all aspects of our lives. How You Learn Is How You Live will provide you with a keen awareness of how life flows through you, transforming experience into knowledge, making you the person you wish to become."
—Robert M. Gemmell, PhD, Executive Director, TI:GER, Scheller College of Business, Georgia Institute of Technology

"We are what we learn. Peterson and Kolb build their case and then provide practical action steps for improving your learning process through entertaining and relatable stories and examples. But beyond the actionable lessons, I was inspired by the quality of their thinking and the beauty of their writing. To paraphrase one of their poetic statements, it was not the experience of reading their book but my experiencing of it that enhanced my learning."
—Susan Fowler, author of Why Motivating People Doesn't Work . . . and What Does

"As a leadership development coach and continual learner, I loved this book! The authors expertly demonstrate the importance of maximizing our potential through recognizing and developing our personal learning styles. They stress how critical this process is for navigating modern, complex, and ever-changing environments. We learn that getting mired in the idea there is only one way to do things can be to our detriment. By embracing 'learning' as a fundamental organizing principle, we develop the flexibility necessary to draw from various learning styles. The critical first step begins with awareness. This step alone has profound implications for expanding perspectives and advancing the change process. This book offers assistance through a compelling blend of science, reflective exercises, and real-life examples. All would benefit from reading it and using the assessment tool to increase personal self-awareness and effectiveness in all areas of growth. I highly recommend it for you, your clients, family, and friends."
—Sandy Carter, MSW, MBA, PhD, Professional Certified Coach

"Many thanks to Kay Peterson and David Kolb for advancing the important discussion of approaching our learning from a place of intention. Their new book, How You Learn Is How You Live, is a valuable blend of theory and practice, providing research-based depth to their assertions while also bridging to practical examples that meet the needs of a world that looks for immediate application and results. In my work with leaders, I find that the most successful leaders are those who are open to their own learning. This new work from Peterson and Kolb would be a worthy addition to any leadership library and provides a rich addition to the field of adult learning." 
—Mindy Hall, PhD, President and CEO, Peak Development Consulting, LLC
 
"This is a terrific, practical book about an expanded version of the Kolb learning model. I have used the basic model for years and believe this expanded version will be quite useful in my work with both individual and team coaching. I thought the stories, examples of application, and application tips were practical and at the right degree of detail to help people at all levels and in all functions see how the Kolb learning model can help them grow as individuals and help teams realize their potential."
—Anne Litwin, PhD, President, Anne Litwin and Associates

"How You Learn Is How You Live is a practical guide grounded in theoretical research. A useful quick read to identify one's preferred style and provide insight in building human capacity in learning and living." 
—Lisa Massarweh, MSN, RN, Director, Kaiser Foundation Hospitals, and Robert Wood Johnson Foundation Executive Nurse Fellow (2006–2009)

"I strongly recommend this book to learners who seek to progress in life, who might be by choice or unexpectedly in transition, or who feel there is more to life than just finding your niche of happiness through pure strengths. Knowing your strengths is imperative, yet having the vision to expand your strengths is inspiring. In general, the concept of self-awareness is apparent throughout. The learning way provides a holistic insight with a scientific approach to experiencing life. Breaking down the various approaches or ways of learning certainly helped me magnify the benefits to exercising other styles or just gave me permission to experiment. As uncomfortable or awkward as this might initially feel, the challenge of tackling something new through expanding flexibility thinking and experiencing what might be is intriguing. Perfect for those who removed the word 'complacency' from their vocabulary. Peterson and Kolb provided a foundation for appreciating and embracing learning styles and increasing self-awareness, as well as permission to experiment and stretch your lens of life beyond your comfort zones."
—Nancy White, MS-PODC, founder and CEO, Workshop AZ

"How You Learn Is How You Live portrays a straightforward, clear, and comprehensive approach that helps readers discover and appreciate how their learning style impacts how they experience life. The authors elucidate how intentionally taking 'the learning way begins with the awareness that learning is present in every life experience and invites us to be engaged, experientially and mindfully, with how we are learning and what we are learning.' The book is one that you want to reread again and again—something you want to experience again, each time mindfully approaching living and relating to oneself, to others, and to one's contribution to our world's conscious evolution. This is most definitely an impactful book for individuals, for couples, for teams, for organizations—and for the world."
—Philip R Belzunce, PhD, and Lalei E Gutierrez, PhD, holistic psychologists, life-relational coaches, and diversity facilitators

"In their book, How You Learn Is How You Live, Kay Peterson and David Kolb have gifted us with a highly understandable and eminently practical guidebook on experiential learning and its importance to everything we do in life. In our pressured world of skill shortages and talent gaps, this book is recommended reading for every employer, teacher, guidance counselor, workforce developer, and economic developer concerned about creating the workforce of the future. Learning by doing has eclipsed traditional educational and training and development strategies because it works far better. Learning is a leading source of competitive advantage in today's fast-changing global economy."
—Don Iannone, President, Donald T. Iannone & Associates