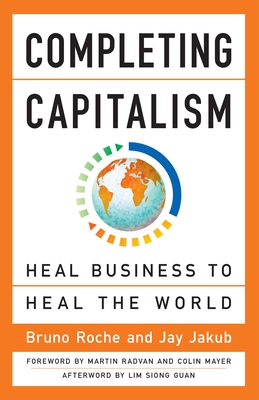 Completing Capitalism (Paperback)
Heal Business to Heal the World
Berrett-Koehler Publishers, 9781626569270, 200pp.
Publication Date: May 1, 2017
Other Editions of This Title:
Compact Disc (5/16/2017)
MP3 CD (5/16/2017)
* Individual store prices may vary.
Description
Proven, Profitable, and Sustainable

For the past fifty years, leaders in the business world have believed that their sole responsibility is to maximize profit for shareholders. But this obsessive focus was a major cause of the abuses that nearly sunk the global economy in 2008. In this analytically rigorous and eminently practical book, Bruno Roche and Jay Jakub offer a more complete form of capitalism, one that delivers superior financial performance precisely because it mobilizes and generates human, social, and natural capital along with financial capital. They describe how the model has been implemented in live business pilots in Africa, Asia, and elsewhere. Recent high-profile books like Capital in the Twenty-First Century have exposed financial capitalism's shortcomings, but this book goes far beyond by describing a well-developed, field-tested alternative.
About the Author
Bruno Roche has been the chief economist of Mars, Inc., since 2006 and leads Catalyst, a global thought leadership capability and internal think tank for Mars, Inc., where the ideas in this book were first proposed. Roche also is part of the World Economic Forum.
Jay Jakub is the senior director of external research at Mars, Inc./Catalyst. He joined the Catalyst corporate think tank in 2007 and coleads with Roche this pioneering new business model initiative. He is also the author of Spies and Saboteurs.
Praise For Completing Capitalism: Heal Business to Heal the World…
"A major breakthrough on creating an economy that works for all. The thinking is rigorous and backed up by careful research on how mutuality-based practices in social, human, natural, and financial capital can change the economic well-being of society. This work now sets the gold standard for how the private sector can go beyond lip service in making a major positive impact on the world."
—Peter Block, author of Flawless Consulting and Community

"The world is rapidly changing, and business must adapt to the new rules of the game or fall behind. Roche and Jakub give us a blueprint for sustainable corporate prosperity. It's an approach that can deliver greater value to society and the environment and also deliver superior business returns—a 'win-win-win' for all stakeholders in a corporate value chain. But to do this, you must work with the right people. This new way of operating a business is applicable to all sectors of the economy. It is not just about doing good but is good for business."
—Olivier Goudet, CEO, JAB Group, and Chairman, Anheuser-Busch InBev

"Courageously reconciles dimensions that were thought to be mutually exclusive for centuries. A must-read for today's business leaders who are ready to reinvent their world!"
—Jean-Christophe Flatin, President, Mars Global Chocolate

"In Completing Capitalism, Bruno Roche and Jay Jakub dramatically succeed where others have dismally failed. Their clear, concise, values-driven words shape capitalism into its final form and elevate it to the pinnacle position that it deserves. Roche's and Jakub's superb scholarship is underpinned and supported by the practical reality of successful pilots and business world applications. They not only complete capitalism, they create and hand us a road map for responsible business in the 21st century."
—Dr. Frank Akers, former Associate Director, Oak Ridge National Laboratory; Chairman, Mars Science Advisory Council; CEO, Oak Ridge Strategies Group; and Brigadier General, US Army (ret.)

"For Veolia, the world leader in environmental services, the question of innovation in service of human progress is central: expanding access to natural resources, preserving and renewing them is our vocation. Our values at Veolia are in profound harmony with the great essay of Bruno Roche and Jay Jakub, Completing Capitalism, which proposes a vision and practical solutions for a responsible capitalism based on reciprocity and shared prosperity."
—Dinah Louda, Executive Director, Veolia Institute, and advisor to the CEO of Veolia

"The more complete form of capitalism put forward by Roche and Jakub is not about competitive advantage. But to be competitive in the future, companies will need to operate this way."
—Paul Michaels, former CEO, Mars, Incorporated, and former executive, Johnson & Johnson and Procter & Gamble

"As human beings we long for the way the world is supposed to be, even as we make choices against that hope. For years Bruno Roche and Jay Jakub have been hard at work thinking and rethinking the way that business should be and ought to be—if we are to flourish as selves and societies, choosing a future that understands the grain of the universe. With a rare willingness to ask the most critical questions about the nature of business, their 'economics of mutuality' is a vision for doing good and doing well in the context of one of the most iconic brands in the modern world. Neither charity nor corporate social responsibility, but rather a way for sustained profitability, Completing Capitalism argues for making money in a way that remembers the meaning of the marketplace." 
—Dr. Steven Garber, Principal, The Washington Institute, and author of Visions of Vocation and The Fabric of Faithfulness

"Some endeavors require intellectual, emotional, or spiritual courage. Bruno and Jay have demonstrated all three in fleshing out this valuable piece of work on behalf of Mars, Incorporated, our associates, and all stakeholders, including the planet. I truly hope it evolves, as I believe it can and must, the dialogue regarding capitalism's future and its crucial role in our world going forward."
—Stephen Badger, Chairman of the Board, Mars, Incorporated

"This crisis is more than a 'normal' crisis. It requires a reset of our thoughts and ways of doing. Business as usual does not work anymore or anywhere. The journey that Jay Jakub and Bruno Roche are proposing is a difficult one but a promising and fecund one. It is ambitious but within our reach to make this world a better one. This is, I believe, the only reasonable option. We have patched up the system. This is the good news. We have to rebuild. This is the promising appeal. A properly functioning market economy must work for the many, not just for the few. Now is the time if we want to eradicate poverty in our generation. And here is how." 
—Bertrand Badré, CEO, BlueOrange Capital; Chair, Global Future Council on International Governance and Public-Private Cooperation, World Economic Forum; former Managing Director and Chief Financial Officer, World Bank Group; and former Group Chief Financial Officer, Société Générale and Crédit Agricole