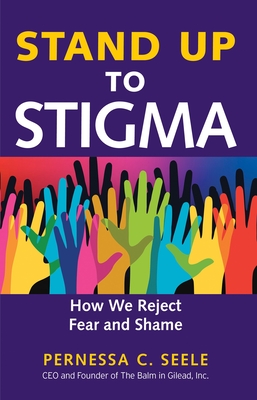 Stand Up to Stigma (Paperback)
How We Reject Fear and Shame
Berrett-Koehler Publishers, 9781626569379, 168pp.
Publication Date: October 23, 2017
Other Editions of This Title:
MP3 CD (10/23/2017)
Compact Disc (10/23/2017)
* Individual store prices may vary.
Description
No More Hate! All Are Welcome!


"Stigma" is a simple two-syllable word, yet it carries the weight of negative and often unfair beliefs that we hold about those who are different from us. Stigmas lock people into stereotyped boxes and deny us all the right to be our authentic and whole selves. Dr. Pernessa Seele, a longtime public health activist who started one of the first AIDS education programs in the 1980s, has crafted a proven method to address stigma. This powerful book confronts stereotype development, shows how to undo the processes and effects of stigma, and explains how we can radically change cultural thinking on the individual, interpersonal, and societal levels to put an end to stigmatization once and for all.
About the Author
Pernessa C. Seele is the founder and CEO of the Balm in Gilead, Inc., a not-for-profit organization that strengthens the capacity of faith institutions in the United States and Africa to promote health education and disease management. Time magazine named her one of the 100 Most Influential People, Essence magazine selected her as one of the 35 Most Beautiful and Remarkable Women in the World, and Ebony magazine named her one of its Power 150.
Praise For Stand Up to Stigma: How We Reject Fear and Shame…
"Pernessa's book can make a difference in your life. In a powerful way, it gets to the heart of a complex issue. Many people stigmatize others without realizing it, and Seele helps readers understand what they can do to change their attitudes and actions."
—Jeff Pegues, Justice and Homeland Security Correspondent, CBS News, and author of Black and Blue


"We all dream of living in a world without stigma and bias, but a quick glance at the news proves that this is a dream deferred. Pernessa Seele pulls no punches in identifying the cost of stigma and steps to take away the power of stigma and bias."
—Rev. Dr. W. Franklyn Richardson, Chairman, Conference on National Black Churches, Inc.

"Dr. Pernessa Seele's tireless efforts to remove disparities in health care—and wherever we need more understanding and acceptance—is nothing short of inspirational. I will gladly share this book with anyone who questions the toll that stigma takes on our human community—or the path we can take to escape it."
—John Hope Bryant, Chairman, Operation HOPE

"In sharing cogent reflections based upon her pioneering experiences as a courageous health advocate, Pernessa Seele squarely identifies the societal toll taken by stigma and stereotyping—and delineates the steps we can take to reaffirm the dignity we each innately possess by virtue of our humanity."
—Natalia Kanem, MD, Acting Executive Director, United Nations Population Fund

 
"Dr. Seele puts a human face on the consequences of stigma, shows the need to examine our biases, and gives me the uneasy personal reminder that as a public health official and researcher, I must drive outside my lane of numbers and statistics."
—Willi McFarland, MD, PhD, MPH&TM, Professor of Epidemiology and Biostatistics, University of California, San Francisco, and Director, Center for Public Health Research, San Francisco Department of Public Health

"The Balm In Gilead founded by Dr. Pernessa Seele has saved lives in
the United States, Africa and beyond. Through education, treatment
and prevention, Pernessa has enabled tens of thousands to walk the
earth with health, hope and wholeness. We are blessed to have Dr.
Seele's narrative of healthcare and wellness in a wounded world."
—Rev. Dr. Otis Moss Jr. International pastor, theologian, speaker, author,
and activist