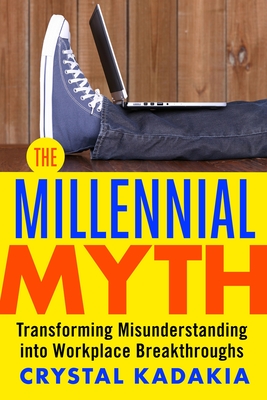 The Millennial Myth (Paperback)
Transforming Misunderstanding into Workplace Breakthroughs
Berrett-Koehler Publishers, 9781626569560, 184pp.
Publication Date: April 17, 2017
Other Editions of This Title:
Compact Disc (5/15/2017)
MP3 CD (5/15/2017)
* Individual store prices may vary.
Description
Ready for the Future or Stuck in the Past?

Millennials have been condemned as lazy, entitled, disloyal, and disrespectful and needing constant hand-holding. But Crystal Kadakia—a Millennial herself as well as an organizational development consultant and two-time TEDx speaker—shows that not only are these negative stereotypes dead wrong, but each one conceals a positive workplace practice that forward-looking companies must adopt if they are to endure. She illuminates how the advent of digital technology is the crucial root cause of many Millennial behaviors and offers a guide for what our traditional workplace needs to do to attract, engage, and retain modern talent.
About the Author
Crystal Kadakia is the founder of Invati Consulting and a speaker, author, and thought leader for Millennials and the modern workplace. She spent seven years at Procter & Gamble as an engineering manager and a learning and development manager. She has won a number of awards, such as ATD's One to Watch, the Power 30 Under 30, and CLO's Learning in Practice Award.
Praise For The Millennial Myth: Transforming Misunderstanding into Workplace Breakthroughs…
"Crystal captures the fundamental disconnect between what people think of Millennials, misguided generalizations based on tired stereotypes that have followed every generation, and who they actually are—which is the future leaders of our workforce. At Bullhorn we've adopted a 'Millennial mindset' of our own, remaining agile, innovative, and transparent in how we operate and build software, and the impact on productivity and employee happiness has been unprecedented."
—Art Papas, CEO, Bullhorn

"The behaviors that result from our perceptions are real—even if our perceptions are incorrect. Crystal is clear in her eye-opening and clarifying concepts that lead to mutual understanding. The new generation entering the workforce at an accelerated pace are messengers from the future. Their presence shines a light on the way the world is becoming. To mislabel or ignore them would be detrimental to all the generations in the workforce. Crystal shows how Millennial behavior is modern behavior and will be a guide for many generations to come. You will love this book!"
—Mick Ukleja, PhD, President, LeadershipTraQ, professor, and coauthor of Managing the Millennials

"When popular philosophy falls behind technological and economic advances, social institutions are at risk of failing to provide opportunity for their members—it is called structural lag. Crystal masterfully describes the effect of structural lag on Millennials and how organizations can create opportunity for an emerging workforce to have a positive influence."
—Chip Espinoza, PhD, coauthor of Managing the Millennials, Millennials@Work, and Millennials Who Manage

"As cofounders of Culture of Good, Inc., which inspires more than three thousand Millennial employees to do meaningful work, we found The Millennial Myth to be spot on. Not only has Crystal helped dispel myths that simply hold little truth about the next generation of leader, but she has also provided in extensive detail the way forward for those leading them. This book is a must-read for those who expect to have success in leading the next generation of employees."
—Scott Moorehead and Ryan McCarty, cofounders of Culture of Good, Inc., and coauthors of Build a Culture of Good