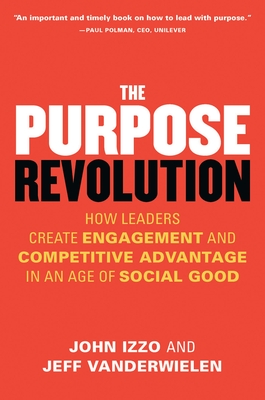 The Purpose Revolution
How Leaders Create Engagement and Competitive Advantage in an Age of Social Good
Paperback

* Individual store prices may vary.
Other Editions of This Title:
MP3 CD (3/13/2018)
Compact Disc (3/13/2018)
Description
More and more, employees, customers, and investors want their work and money to not only provide for their own material needs but to also help create a better world for all. Bestselling author John Izzo teams up with Jeff VanderWeilen to show leaders and companies how to transform their corporate culture so they can succeed in the midst of this Purpose Revolution.

Discover the Purpose Advantage!

Customers, employees, and investors are no longer satisfied with companies providing good products, good prospects, and good profits--they want them to do some social good, too. These "purpose-driven" companies do better on nearly every traditional metric: greater customer loyalty, higher retention, more innovation, and a healthier bottom line. But a nice mission statement and donations to charity won't make your company stand out. Using scores of real-world examples and practical exercises, John Izzo and Jeff Vanderwielen help leaders find a truly authentic purpose, one that is a natural fit for them and their organization. They describe concrete actions leaders can take to ensure that employees own it, customers and recruits connect with it, and every corporate action and activity reflects it.
Praise For The Purpose Revolution: How Leaders Create Engagement and Competitive Advantage in an Age of Social Good…
"A valuable addition to a growing body of academic research—and business experience—showing that purpose-led companies really do perform better and last longer and are in tune with the hopes and aspirations of the people they serve. This book shows why purpose needs to start at the top and then shows how to embed it everywhere in the organization."
—Paul Polman, CEO, Unilever
 
"Dr. John Izzo is one of the world's leading business authors, and his latest work, The Purpose Revolution, shares invaluable lessons on how to build your organization's culture around a common purpose. I am grateful to John for producing this seminal book that will help organizations of all kinds strengthen their culture by discovering and honoring their unique social purpose."
—Darren Entwistle, President and CEO, TELUS
 
"Purpose can be incredibly powerful to transform and unleash your organization. If you want to know why purpose matters and how to activate it in your organization, read this book. It is filled with great ideas you can use right away to discover your own purpose as a leader and embed it in your team."
—Dolf van den Brink, CEO, Heineken Mexico
 
"This book makes a compelling case for how more and more people are seeking self-actualization through both the work they choose to do as employees and the companies they choose to buy from. It is filled with many useful tools to help define, refresh, and bring purpose to life in your business."
—Joey Bergstein, CEO, Seventh Generation
 
"The Purpose Revolution is at once an eloquent manifesto and a practical guidebook. The authors first grab you with compelling evidence that purpose matters (a lot). Then they tell engaging stories about people and organizations who've thrived because they understood at their core how important purpose is. And every step of the way John and Jeff provide immediate actions you and your organization can take to audit, craft, communicate, and commit to an authentic, inspiring, and scalable purpose that connects. The Purpose Revolution is here. Not just the book, but the movement. Join it—now. Or get left behind wondering why your employees, customers, and investors have moved on to someone who has."
—Jim Kouzes, coauthor of The Leadership Challenge and Dean's Executive Fellow of Leadership, Leavey School of Business, Santa Clara University
 
"Purpose-driven business is a powerful approach for overcoming our greatest societal challenges and driving business growth. This book provides a realistic, practical approach to embedding purpose in an organization, and it's engaging along the way."
—Jean Bennington Sweeney, Chief Sustainability Officer, 3M
 
"The Purpose Revolution provides a blueprint to higher levels of employee engagement and competitive advantage! John Izzo and Jeff Vanderwielen show the path to success in the new age for leaders in their amazingly insightful new book."
—Marshall Goldsmith, New York Times #1 bestselling author of Triggers and What Got You Here Won't Get You There
 
"In The Purpose Revolution, Dr. Izzo offers a framework for success that is grounded in research and decades of wisdom accumulated from advising leaders."
—Dr. Geoff Smart, founder and Chairman, ghSMART, and author of Who and Power Score
 
"This powerful, practical book not only shows you what your employees and customers expect but shows you how to powerfully activate purpose in your business. A must-read for anyone wanting to win in the age of social good."
—KoAnn Vikoren Skrzyniarz, founder and CEO, Sustainable Life Media, producers of Sustainable Brands
 
"If you think you've heard others talk about purpose and you don't need any more on that topic, think again! The authors take this discussion to a whole new level. They not only deliver superb examples and stories but will make all leaders reconsider their current approach. They also provide a strategy for how to apply these principles to any size organization. A fast and practical read."
—Bev Kaye, bestselling author of Love 'Em or Lose 'Em and Up Is Not the Only Way
 
"This book describes a powerful revolution of expectations among your employees and customers. Izzo has helped ignite purpose in our company and shows you how to do the same. A must-read for every person in your company!"
—Simon Nankervis, President, Town Shoes Ltd.
 
"Purpose and meaning are at the heart of leading. If you have time to read only one book this year on what brings the power of purpose to leadership, this is it! With a powerful blend of science, philosophy, and personal experience, this is a powerful read on the key ingredients for purpose in work and life."
—Richard Leider, international bestselling author of The Power of Purpose, Repacking Your Bags, and Life Reimagined
 
"At a time when Air Canada is expanding globally, our business is growing at an unprecedented rate, and we have the additional challenge of a multigenerational workforce, John's insightful findings around the value of purpose resonated with us at every level and will inform our culture change initiatives now and in the future."
—Arielle Meloul-Wechsler, Senior Vice President, People and Culture, Air Canada
 
"John Izzo was an early advocate for the idea that companies have a 'soul'—a meaning and purpose beyond just profit-making. In The Purpose Revolution, Izzo and Vanderwielen provide a strong business and moral case for business leaders to focus intently on why their companies exist and what they do for society. This book shows you how identifying and acting on your company's purpose will make your business more successful, your employees more engaged, and your own work more meaningful."
—Andrew Winston, author of The Big Pivot and coauthor of Green to Gold
Berrett-Koehler Publishers, 9781626569669, 272pp.
Publication Date: March 13, 2018
About the Author
John Izzo is president of Izzo Associates. He has spoken to over one million people and advised over 500 companies, including IBM, Qantas, the Mayo Clinic, Verizon, RBC, TELUS, Walmart, DuPont, Humana, Microsoft, and IBM. He is the author or coauthor of six books, including Awakening Corporate Soul.

Jeff Vanderwielen is vice president of consulting at Izzo Associates and a former senior change consultant at Ernst & Young.