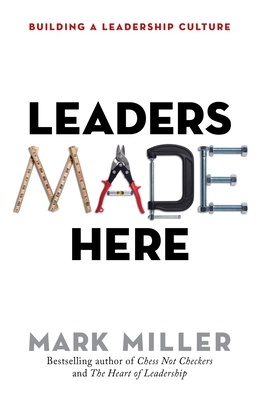 Leaders Made Here
Building a Leadership Culture (The High Performance Series)
Hardcover

* Individual store prices may vary.
Other Editions of This Title:
Paperback, Large Print (3/13/2017)
Compact Disc (3/13/2017)
MP3 CD (3/13/2017)
Description
Leaders Made Here
Great leaders create great organizations. However, a scarcity of leaders today means a shortfall in performance tomorrow. Don't gamble with your company's future!

You don't need to hope that leaders emerge from the ranks or that search firms can find the leaders you need in a timely fashion. Hope is not a strategy! You can build an organizational culture that will ensure your leadership pipeline is full and flowing.

Bestselling author and Chick-fil-A executive Mark Miller describes how to nurture leaders throughout the organization, from the front lines to the executive ranks. Leaders Made Here outlines a clear and replicable approach to creating the leadership bench every organization needs.

To bring his ideas to life, Miller uses the story of Blake, a new CEO, and Charles and old friend and colleague, as they search for the best practices from around the world to ensure a continuous supply of their most precious asset – leaders. Blake and his team then translate their findings into a practical plan that any organization can use to create a leadership culture, sustained competitive advantage, and long-term success.
Praise For Leaders Made Here: Building a Leadership Culture (The High Performance Series)…
"If you know Mark Miller's work, reading this endorsement is unnecessary. You already know that when it comes to training ethical, top-notch leaders, Mark is as good as it gets. His latest work, Leaders Made Here, will be widely used by organizations for decades to come."
– Mark Levy, founder of Levy Innovation LLC and author of Accidental Genius

"All great organizations are intentional about growing leaders. Any business or nonprofit desiring a stronger bottom line or greater impact in the world must make leadership development part of its cultural DNA. Leaders Made Here will show you the way."
– Howard Behar, former President, Starbucks international

"In Leaders Made Here, Mark Miller shares an important road map for leaders seeking to build leadership cultures. His guidance is action oriented and details a very pragmatic, purposeful approach to helping build leaders at every organizational level. When employees feel empowered to lead, everyone wins."
– Angie Morgan, cofounder of Lead Star and coauthor of the bestseller Leading From the Front and SPARK

"Mark is not just a leadership theorist. He is an everyday practitioner of leadership discoveries in a dynamic company. I read everything he writes."
– Bill Hybels, Senior Pastor, Willow Creek Community Church

"Mark Miller has tacked a profound subject in this book, and he's spot-on. A healthy, intentional culture is the best way to multiply leaders. His parable unveils the actionable items we all can implement to build more and better leaders. I recommend Leaders Made Here to anyone who's serious about leadership development."
– Dr. Tim Elmore, President, Growing Leaders

"A timely book that speaks to the very core of sustaining growth of a company by developing a surplus of talented, skilled, and 'ready-now' leaders..As Mark says, 'like oxygen, without them the corporation dies.'"
– Daniel Johnson, founder and CEO, Pureflow, Inc.

Berrett-Koehler Publishers, 9781626569812, 144pp.
Publication Date: March 13, 2017
About the Author
Mark Miller started his Chick-fil-A career in 1977 working as an hourly team member. In 1978, he joined the corporate staff as the sixteenth employee – he divided him time between the warehouse and the mailroom. Since then, Mark has provided leadership for Corporate Communications, Field Operations, Quality and Customer Satisfaction, Training and Development, Organizational Effectiveness and Leadership Development. Mark's desire to encourage and equip leaders has taken him around the globe. His writing has reached around the world as well. Today, there are over 900,000 copies of his books in print in twenty-five languages.