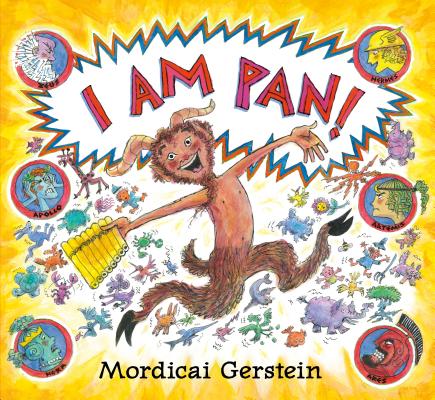 I Am Pan! (Hardcover)
Roaring Brook Press, 9781626720350, 80pp.
Publication Date: March 8, 2016
* Individual store prices may vary.
Description
Mischievous from the moment he emerges howling and screeching from his mother's womb, Pan, god of the wild, creates pandemonium wherever he goes. Noise and confusion follow him as he steals arrows from Artemis, conceives panic, tricks the moon into falling in love with him, and saves the world from the monster, Typhon. With panache and a wicked pair of horns, Pan spreads chaos and laughter on the way to becoming Mount Olympus's most lovable pest.
From Mordicai Gerstein, Caldecott Medal-winning author of The Man Who Walked Between the Towers, comes an irresistible picture book about Greek mythology's wildest, wackiest god. Gerstein's high-spirited paintings and rollicking sense of humor create an accessible introduction to an unforgettably vivacious hero.
About the Author
Mordicai Gerstein is the author and illustrator of The Man Who Walked Between the Towers, winner of the Caldecott Medal, and has had four books named New York Times Best Illustrated Books of the Year. Gerstein was born in Los Angeles in 1935. He remembers being inspired as a child by images of fine art, which his mother cut out of Life magazine, and by children's books from the library: "I looked at Rembrandt and Superman, Matisse and Bugs Bunny, and began to make my own pictures." He attended Chouinard Art Institute in Los Angeles, and then got a job in an animated cartoon studio that sent him to New York, where he designed characters and thought up ideas for TV commercials. When a writer named Elizabeth Levy asked him to illustrate a humorous mystery story about two girls and a dog, his book career began, and soon he moved on to writing as well as illustrating. "I'm still surprised to be an author," he says. "I wonder what I'll write next?" Gerstein lives in Westhampton, Massachusetts.
Praise For I Am Pan!…
"If ever there was a god of fun, here he is . . . no mythtake." -Kirkus, starred review
"Tons of humor, whimsy, and action on every page. An irresistible introduction to the god and to Greek mythology in general." -School Library Journal, starred review
"Laughs come fast and frequently. . . It's every bit the wild and woolly "autobiography" that a chaotic spirit like Pan deserves."-Publishers Weekly, starred review
"Gerstein artfully re-creates not only the finger-in-a-light-socket energy of a spirited child but the way that young kids tell stories: abrupt, arbitrary, and rich with action." -The Horn Book, starred review
"A strong addition even to the bulging mythology collections, as well as a good readaloud choice for any young listeners who delight in chaos." -BCCB
"Caldecott artist Mordicai Gerstein takes delightful liberties with stories of the Greek god Pan in this effervescent picture book." -Shelf Awareness