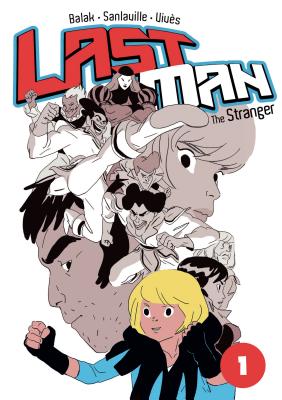 Last Man (Paperback)
The Stranger
First Second, 9781626720466, 208pp.
Publication Date: March 31, 2015
* Individual store prices may vary.
Description
The Games are already underway when Richard Aldana arrives in town. This mysterious stranger seems to have more in common with our world than the world where the Games are held. He smokes cigarettes and wears a leather jacket while everyone else in this medieval realm is casting spells and weaving tapestries. Nobody knows what to make of him, but when Aldana enrolls in the games he quickly becomes a top contender. Eschewing magic and using only his martial arts prowess, Aldana also befriends and protects a small boy for reasons as mysterious as his origins.
Who will win the games? Who is Richard Aldana, really? And what is the ultimate purpose of this gruelling gladiatorial contest?
With its intricate fantasy setting and heart-pounding action sequences, Last Man has become the smash hit comics series in France. Combining compelling character-driven storytelling with fast-paced adventure, Last Man is an addictive series with a cliffhanger at the end of each volume that leaves readers panting for more.
About the Author
BASTIEN VIVES was born in 1984 in Paris. He spent his childhood drawing with his brother. His studies focused on illustration and animation at the Ecole des Gobelins. After movie-making classes, he dived into comics, and his first title came out in 2007. And now LAST MAN comes out in the US! He was raised on Stallone, Spielberg, Teenage Mutant Ninja Turtles, Richard Corben, and Bill Watterson.… They inspired him to take up this life.

MICHAEL SANLAVILLE—TV was late in coming to his parent's house. Very quickly, anime heroes like Sangoku and Survivor Ken replaced White Fang and Little Nemo and the other characters haunting his mind. Later, Terminator, Rambo and MacLane followed and fed his passion for drawing. He decided to make a living at it. He graduated from the Emile Cohl school, and later the Gobelins, after which he followed twin careers in animation (at the Xilam studio) and in comics with Casterman publishers. Last Man, Sanlaville's novel with First Second, is an addictive series with a cliffhanger at the end of each volume that leaves readers panting for more.

BALAK (aka Yves Bigerel)—Graduated from the Gobelins school of Animation in 2006, Balak works as a storyboard artists, 2D animator and TV show director in France. He works with Marvel Comics on the new digital Infinite Comics brand, under his real name (Yves BIGEREL), as a storyboard artist (Avengers VS X-men with Mark Waid, Guardians of the Galaxy with Brian M. Bendis, Wolverine: Japan's Most Wanted with Jason Aaron and Jason Latour).
Praise For Last Man: The Stranger…
"Last Man is irresistible. Blending elements of manga and bande dessinee with a loose boldness and a flair for fantasy, this series is a winner." —Paul Pope, author of Battling Boy
"The art is particularly striking, with loose, flowing lines and spare details that make the fight scenes truly sing, while in close-up range, the characters' features tighten into focus, creating uniquely lovely portraiture." —Booklist
"Fight scenes are buoyed by the use of minimal contours, with Balak, Vivès, and Sanlaville drawing on their respective experiences as animator, cartoonist, and video-game designer to give the action a visceral flow." —Publishers Weekly
"Recommend to graphic novel fans looking for something new—they will not be disappointed." —School Library Journal
"Sharp black, white, and gray illustrations work smoothly with the text, often featuring key wordless events that evoke the coziness of Adrian's relationship with his mother or the mostly silent physicality of a fight." —The Bulletin of the Center for Children's Books