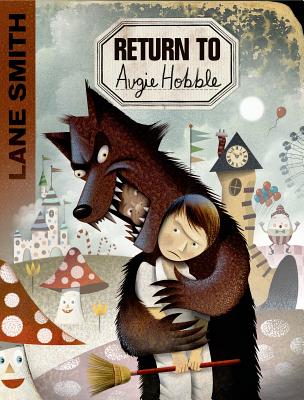 Return to Augie Hobble (Hardcover)
Roaring Brook Press, 9781626720541, 288pp.
Publication Date: May 5, 2015
* Individual store prices may vary.
Description
Augie Hobble lives in a fairy tale—or at least Fairy Tale Place, the down-on-its-luck amusement park managed by his father. Yet his life is turning into a nightmare: he's failed creative arts and has to take summer school, the girl he has a crush on won't acknowledge him, and Hogg Wills and the school bullies won't leave him alone. Worse, a succession of mysterious, possibly paranormal, events have him convinced that he's turning into a werewolf. At least Augie has his notebook and his best friend Britt to confide in—until the unthinkable happens and Augie's life is turned upside down, and those mysterious, possibly paranormal, events take on a different meaning.
About the Author
Lane Smith has written and illustrated a bunch of stuff, most recently There Is A Tribe of Kids, which is set to launch in Summer 2016. He is the author of the middle-grade novel Return to Augie Hobble, as well as author and illustrator of Grandpa Green which was a 2012 Caldecott Honor book and It's a Book which was on the New York Times bestseller list for over six months and has been translated into over twenty languages. His other works include the national bestsellers Madam President and John, Paul, George & Ben. His titles with Jon Scieszka have included the Caldecott Honor winner The Stinky Cheese Man; The True Story of the 3 Little Pigs; Math Curse; and Science Verse. Lane's other high profile titles include Hooray for Diffendoofer Day! by Dr. Seuss and Jack Prelutsky; The Very Persistent Gappers of Frip by George Saunders; Big Plans by Bob Shea; and James and the Giant Peach by Roald Dahl. In 1996, Lane served as Conceptual Designer on the Disney film version of James and the Giant Peach.
His books have appeared on the New York Times Best Illustrated Book of the Year list four times. Lane and book designer Molly Leach live in rural Connecticut.
Praise For Return to Augie Hobble…
"Does an impeccable job of introducing heartbreak while keeping the mood light." —Publishers Weekly, starred review
"Great fun, with hardly a trope or theme left unspun." —Kirkus, starred review
"Smith huffs and puffs and blows the roof off his first novel. . . Bravo!" —Booklist, starred review
"Like the late comic master Terry Pratchett, Smith knows how to make profound points lightly as he holds a funhouse mirror to the larger world." —The Washington Post
"An emotionally resonant reflection on friendship and loss." —BCCB
"This unusual, ultimately exultant story is tinged with the supernatural and heartbreaking at its core." —The Wall Street Journal
"The incomparable Lane Smith stomps triumphantly into the middle school playground with his first novel." —The New York Times Book Review