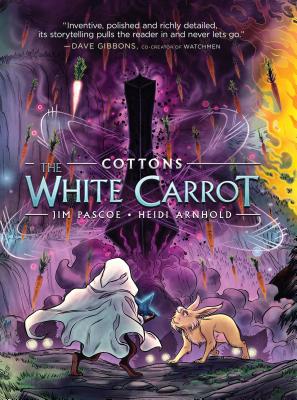 Cottons
The White Carrot
Hardcover

* Individual store prices may vary.
Description
In Cottons: The White Carrot, the second volume in Jim Pascoe and Heidi Arnhold's epic graphic novel trilogy, we are taken deeper into a rich fantasy world where art is both coveted and feared.

For the rabbits of the Vale of Industry, cha is everything. It's the fuel that lights their homes, powers their factories, and makes modern life possible. But to Bridgebelle, cha means so much more. It's the vital ingredient she needs to make thokchas—beautiful works of art that glow and transform, as if by magic.

But Bridgebelle isn't the only one captivated by thokchas. Outside the Vale, the nefarious foxes have discovered the destructive power they hold. They plan use thokchas as the ultimate weapon in their age-old war against the rabbits. When the foxes attack, Bridgebelle is left with an impossible choice: make them a thokcha, or offer up her life.
First Second, 9781626720619, 272pp.
Publication Date: February 18, 2020
About the Author
Jim Pascoe is a writer, designer, and an award-winning creative director. His comics credits include Buffy the Vampire Slayer, Hellboy Animated, and the original series Undertown—which was originally published by TOKYOPOP, put out as a book-fair edition by Scholastic, and distributed by Universal Press Syndicate to over fifty newspapers worldwide. He lives in Los Angeles, where he drinks coffee, sleeps very little, and believes in magic.

Heidi Arnhold is a graduate of the Savannah College of Art and Design whose published works have involved popular franchises like Star Trek, The Dark Crystal, and Fraggle Rock. She began working on Cottons with writer Jim Pascoe in 2010. The art in this book is powered by Heidi's love for visual storytelling, all rabbits, and kale smoothies. She currently resides in Atlanta with her husband, one adorable bunny, and a blender that makes kale smoothies.