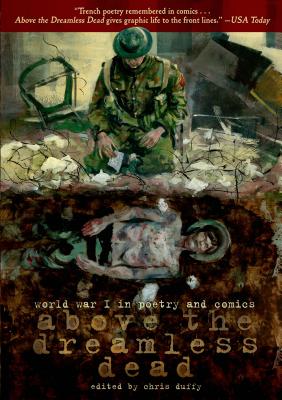 Above the Dreamless Dead (Hardcover)
World War I in Poetry and Comics
First Second, 9781626720657, 144pp.
Publication Date: July 15, 2014
* Individual store prices may vary.
Description
As the Great War dragged on and its catastrophic death toll mounted, a new artistic movement found its feet in the United Kingdom. The Trench Poets, as they came to be called, were soldier-poets dispatching their verse from the front lines. Known for its rejection of war as a romantic or noble enterprise, and its plainspoken condemnation of the senseless bloodshed of war, Trench Poetry soon became one of the most significant literary moments of its decade.
The marriage of poetry and comics is a deeply fruitful combination, as evidenced by this collection. In stark black and white, the words of the Trench Poets find dramatic expression and reinterpretation through the minds and pens of some of the greatest cartoonists working today.
With New York Times bestselling editor Chris Duffy (Nursery Rhyme Comics, Fairy Tale Comics) at the helm, Above the Dreamless Dead is a moving and illuminating tribute to those who fought and died in World War I. Twenty poems are interpreted in comics form by twenty of today's leading cartoonists, including Eddie Campbell, Kevin Huizenga, George Pratt, and many others.
About the Author
...

Chris Duffy is a writer and comics editor. He worked as Senior Comics Editor at the award-winning Nickelodeon Magazine for 13 years and currently edits SpongeBob Comics for United Plankton Pictures, as well as other projects. Chris was part of the board of advisors for Art Spiegelman and Françoise Mouly's TOON TREASURY OF CLASSIC CHILDREN'S COMICS. His comic book writing includes scripts for BIZARRO COMICS, BIZARRO WORLD, SUPERMAN ADVENTURES, SCOOBY-DOO, WHAT IF?, RUGRATS COMIC ADVENTURES, and BATMAN CHRONICLES. He wrote comics strips for FAMILY DOG MAGAZINE. Comics that he has written and drawn have appeared in several anthologies, including AWESOME, AWESOMER, and DRAGONS! He lives with his family in Cold Spring, New York.