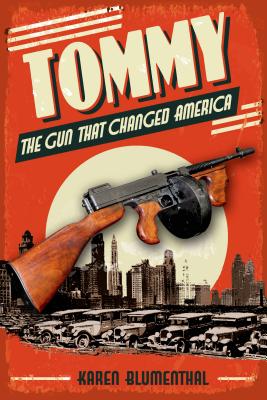 Tommy (Hardcover)
The Gun That Changed America
Roaring Brook Press, 9781626720848, 240pp.
Publication Date: June 30, 2015
Description
John Taliaferro Thompson had a mission: to develop a lightweight, fast-firing weapon that would help Americans win on the battlefield. His Thompson submachine gun could deliver a hundred bullets in a matter of seconds--but didn't find a market in the U.S. military. Instead, the Tommy gun became the weapon of choice for a generation of bootleggers and bank-robbing outlaws, and became a deadly American icon. Following a bloody decade--and eighty years before the mass shootings of our own time--Congress moved to take this weapon off the streets, igniting a national debate about gun control. Critically-acclaimed author Karen Blumenthal tells the fascinating story of this famous and deadly weapon--of the lives it changed, the debate it sparked, and the unprecedented response it inspired.
About the Author
Karen Blumenthal is an award-winning children's non-fiction writer and a longtime journalist. She previously wrote about the 1920s and 1930s in Bootleg: Murder, Moonshine, and the Lawless Years of Prohibition, a YALSA Excellence in Nonfiction for Young Adults Award finalist, and Six Days in October: The Stock Market Crash of 1929, a Sibert Honor Book. She lives in Dallas, Texas.
Advertisement