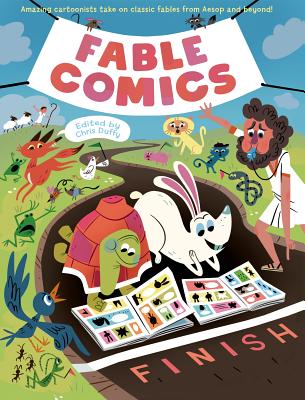 Fable Comics (Hardcover)
Amazing Cartoonists Take On Classic Fables from Aesop and Beyond
First Second, 9781626721074, 128pp.
Publication Date: September 22, 2015
* Individual store prices may vary.
Description
From classics like "The Tortoise and the Hare" and "The Grasshopper and the Ants" to obscure gems like "The Frogs Who Desired a King," Fable Comics has something to offer every reader. Twenty-eight fables from different cultures and traditions are wonderfully adapted and illustrated in comics format by twenty-six different cartoonists. Edited by New York Times bestselling Fairy Tale Comics' Chris Duffy, this jacketed hardcover is a beautiful gift and an instant classic.
About the Author
...

Chris Duffy is a writer and comics editor. He worked as Senior Comics Editor at the award-winning Nickelodeon Magazine for 13 years and currently edits SpongeBob Comics for United Plankton Pictures, as well as other projects. Chris was part of the board of advisors for Art Spiegelman and Françoise Mouly's TOON TREASURY OF CLASSIC CHILDREN'S COMICS. His comic book writing includes scripts for BIZARRO COMICS, BIZARRO WORLD, SUPERMAN ADVENTURES, SCOOBY-DOO, WHAT IF?, RUGRATS COMIC ADVENTURES, and BATMAN CHRONICLES. He wrote comics strips for FAMILY DOG MAGAZINE. Comics that he has written and drawn have appeared in several anthologies, including AWESOME, AWESOMER, and DRAGONS! He lives with his family in Cold Spring, New York.
Praise For Fable Comics: Amazing Cartoonists Take On Classic Fables from Aesop and Beyond…
"Consistently strong and exceptionally cohesive for such a varied collection, this will appeal to a wide range of readers." —Booklist