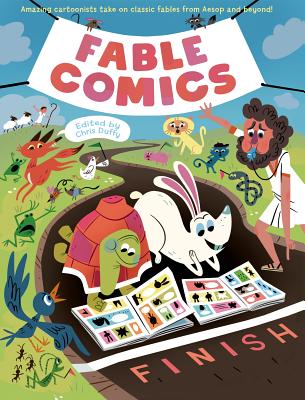 Fable Comics (Hardcover)
Amazing Cartoonists Take on Classic Fables from Aesop and Beyond
First Second, 9781626721074, 128pp.
Publication Date: September 22, 2015
Description
From classics like "The Tortoise and the Hare" and "The Grasshopper and the Ants" to obscure gems like "The Frogs Who Desired a King," Fable Comics has something to offer every reader. Twenty-eight fables from different cultures and traditions are wonderfully adapted and illustrated in comics format by twenty-six different cartoonists. Edited by New York Times bestselling Fairy Tale Comics' Chris Duffy, this jacketed hardcover is a beautiful gift and an instant classic.
About the Author
Contributors include: Graham Annable, Greg Benton, R.O. Blechman, Vera Brosgol, Graham Chaffee, Eleanor Davis, Tom Gauld, Sophie Goldstein, Charise Harper, Jaime Hernandez, John Kerschbaum, James Kochalka, Simone Lia, Liniers, Jennifer Meyer, Corinne Mucha, Mark Newgarden, George O'Connor, Shelly Paroline and Braden Lamb, Israel Sanchez, Robert Sikoryak, Maris Wicks, Keny Widjaja
Advertisement