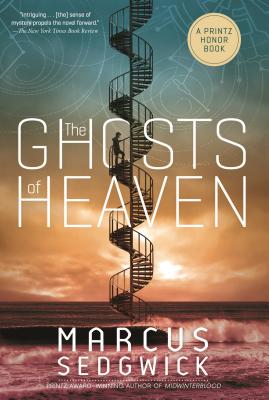 The Ghosts of Heaven (Hardcover)
Roaring Brook Press, 9781626721258, 368pp.
Publication Date: January 6, 2015
Other Editions of This Title:
Paperback (10/25/2016)
* Individual store prices may vary.
Description
Timeless, beautiful, and haunting, spirals connect the four episodes of The Ghosts of Heaven, the mesmerizing new novel from Printz Award winner Marcus Sedgwick. They are there in prehistory, when a girl picks up a charred stick and makes the first written signs; there tens of centuries later, hiding in the treacherous waters of Golden Beck that take Anna, who people call a witch; there in the halls of a Long Island hospital at the beginning of the 20th century, where a mad poet watches the oceans and knows the horrors it hides; and there in the far future, as an astronaut faces his destiny on the first spaceship sent from earth to colonize another world. Each of the characters in these mysterious linked stories embarks on a journey of discovery and survival; carried forward through the spiral of time, none will return to the same place.
This title has Common Core connections.
About the Author
Marcus Sedgwick was born and raised in Kent in South East England, but now lives in the French Alps. His books have won and been shortlisted for many awards; most notably, he has been shortlisted for Britain's Carnegie Medal six times, has received two Printz Honors, for Revolver and Ghosts of Heaven, and in 2013 won the Printz Award for Midwinterblood.
Praise For The Ghosts of Heaven…
"Four short stories, thematically related by images of the spiral form that snakes its way through each to obsess a protagonist, flash across time in this thought-provoking collection." —Bulletin of the Center for Children's Books
". . . satisfyingly brain-teasing." —The Horn Book
"* Sedgwick is one of the most sophisticated, thought-provoking voices in YA novels, and like his Printz winning Midwinterblood, this presents a story told in pieces over a span of centuries." —Booklist, STARRED REVIEW
"* Like his Printz Award-winning Midwinterblood, the prolific Sedgwick's latest work consists of individual tales spanning centuries of time connected only by a single thread - in this case a shape; the spiral . . . At once prosaic and wondrously metaphysical, Sedgwick's novel will draw teens in and invite them to share in the awe-inspiring (and sometimes terrifying) order and mystery that surround us all." —School Library Journal, STARRED REVIEW
"* Similar to Sedgwick's Printz Award-winning Midwinterblood, four stories relate in elusive ways . . . this complex masterpiece is for sophisticated readers of any age. Haunting." —Kirkus Reviews, STARRED REVIEW
"Readers who like untangling puzzles will enjoy parsing the threads knitting together this corkscrew of tales." —Publishers Weekly
"A tale for the ages, expertly spun and completely satisfying." —Eoin Colfer, New York Times Book Review on Midwinterblood
"Its strange spell will capture you." —Booklist, starred review on Midwinterblood
"The Time traveler's Wife meets Lost in this chilling exploration of love and memory." —Kirkus, starred review on Midwinterblood
"A story that's simultaneously romantic, tragic, horrifying, and transcendental." —Publishers Weekly, starred review on Midwinterblood
or
Not Currently Available for Direct Purchase