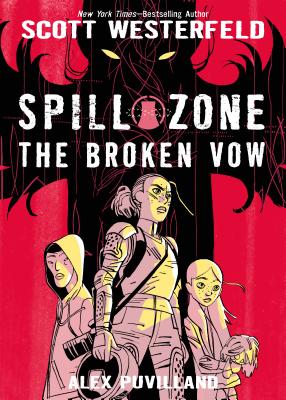 Spill Zone Book 2
The Broken Vow
Hardcover

* Individual store prices may vary.
Other Editions of This Title:
Paperback (7/16/2019)
Description
All hell breaks loose in Spill Zone Book 2: The Broken Vow, the second volume of this dystopian graphic novel duology by science fiction visionary Scott Westerfeld and artist Alex Puvilland.

Three years ago an event destroyed the small city of Poughkeepsie, forever changing reality within its borders. Strange manifestations and lethal dangers now await anyone who enters the Spill Zone. Addison got close enough to the Spill Zone to touch it, literally. She survived the encounter, but came back changed.

It turns out she's not alone. North Korea has its own Spill Zone, and a young man named Jae is the only one who made it out alive. Alive, but changed. Now Addison, Don Jae, and, curiously, a rag doll named Vespertine, share an unholy bond and uncanny powers.
Praise For Spill Zone Book 2: The Broken Vow…
"Spill Zone: The Broken Vow is a masterpiece that sticks with you long after you read it once, twice, three times. A horrifyingly beautiful world that springs out at you every page that you turn." —Fangirlish

"Bestseller Westerfeld's second installment is the quintessential page-turner. Groundwork laid in the first volume pays off in nearly nonstop action here." —Kirkus, starred review

"[Westerfeld]...crafts a sprawling, complex plot that he tightens with suspense and distinctive character dialogue, which keeps the story spinning, and brings it all to an action-packed but emotionally satisfying climax. Puvilland supports the cracking tale with baffling and beautiful visions of the otherworldly...The saga, now complete, is as gripping a sci-fi thriller as the form has produced." —Booklist, starred review

First Second, 9781626721500, 240pp.
Publication Date: July 10, 2018
About the Author
Scott Westerfeld is a software designer, a composer of music for modern dance, and the author of novels such as The Risen Empire and The Killing of Worlds. He lives in New York City and Sydney, Australia.

Alex Puvilland was born in France where he grew up reading his father's comic books. Looking for a life of adventure full of loose women and danger, he moved to California at the age of 22, convinced he would become a millionaire within the month. Eighteen years later he lives in Los Angeles, with his ridiculously talented wife and two extraordinary children, Leo and Adrien. He works for Dreamworks Animation, does comics whenever he has a moment, but is still not a millionaire… Alex co-illustrated Prince of Persia, the graphic novel' and Templar.