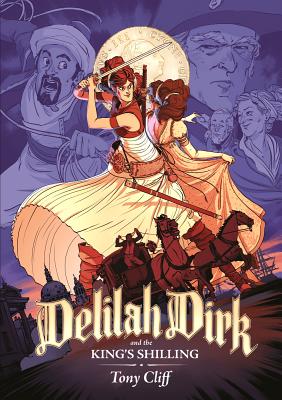 Delilah Dirk and the King's Shilling (Paperback)
First Second, 9781626721555, 272pp.
Publication Date: March 8, 2016
Other Editions of This Title:
Prebound (3/8/2016)
* Individual store prices may vary.
Description
Globetrotting troublemaker Delilah Dirk and her loyal friend Selim are just minding their own business, peacefully raiding castles and traipsing across enemy lines, when they attract the unwanted attention of the English Army. Before they know it, Delilah and Selim have gotten themselves accused of espionage against the British crown!
Delilah will do whatever it takes to clear her good name, be it sneaking, skirmishing, or even sword fighting... But can she bring herself to wear a pretty dress and have a nice cup of tea with her mother? Delilah Dirk may be defeated at last. By tulle...in Tony Cliff's Delilah Dirk and the King's Shilling.
About the Author
Tony Cliff – a life-long resident of Vancouver, British Columbia – began his comics work as a contributor to the Flight series of anthologies. His first major published work, Delilah Dirk and the Turkish Lieutenant, is a NYT Bestseller, a Publishers' Weekly Best of 2013, and was nominated for Eisner, Shuster, and Harvey awards. Delilah Dirk and the Third Pillar of Hercules will be the third book in the series, following 2016's similarly well-received The King's Shilling. He is strongly opposed to bios that conclude with one quirky attempt at humour.
Praise For Delilah Dirk and the King's Shilling…
"A story jam-packed with action and spectacle, but at its heart is a story of friendship and trust. A fantastic addition to a stellar series!" —Noelle Stevenson, author of Nimona
"Gorgeous." —Emily Carroll, author of Through the Woods
"With perfect comic timing and a hefty dose of charm thrown in with the adventure, Delilah Dirk and the King's Shilling is absolutely thrilling!" —Kate Beaton, author of Hark! A Vagrant
"One of the most beautifully illustrated books I've ever seen. Cheers to the swashbuckling adventures of Delilah and Selim!" —Kazu Kibuishi, author of the Amulet series
"Move over, Indiana Jones. . . . with gorgeous illustrations and clever writing, Cliff seamlessly blends action and comedy into a charming tale that is so much fun you'll wish you brought popcorn." —Entertainment Weekly
"The character development adds welcome depth to an already absorbing adventure. Irresistible and exhilarating." —Kirkus Reviews, starred review
"Another whirlwind adventure that builds upon Cliff's unifying factor—true friendship." —School Library Journal, starred review
"It's the dynamic between Delilah and Selim, a headstrong woman and pliant man who remain platonic companions, that gives the book its compelling emotional center." —Publishers Weekly, starred review
"Cliff's artwork and storytelling skill make this graphic novel a fine purchase for those looking to expand their graphic novel collection beyond capes and manga." —Voya Magazine, starred review