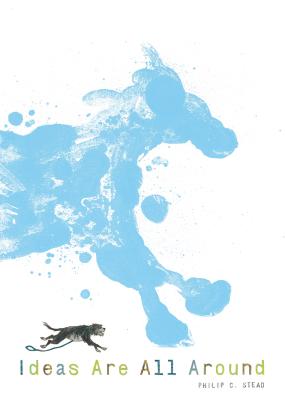 Ideas Are All Around
Hardcover

* Individual store prices may vary.
Description
As an author and his dog, Wednesday, walk through their neighborhood, they look at sunflowers, say hi to Frank, a turtle, who makes quick for the water and disappears, and watch a train rumble by as they walk uphill to a big purple house that belongs to their friend Barbara. Wednesday chases squirrels while the two friends discuss fishing and war and how back before the neighborhood was there enormous woolly mammoths roamed where houses now sit.

Thoughts open up to other thoughts, and ideas are born and carried forward, often transforming into other ideas until he finds that ideas really are all around, you just have to know what to do with them. This title has Common Core connections.
Praise For Ideas Are All Around…
"The art is glorious, creatively mixing small photographs—presented as Polaroids—with ink and watercolor paintings… a provocative, artful journey."—School Library Journal, starred review


"In all, Stead has given readers a deeply felt, deeply connected story that is homage to creation—and really quite brilliant."—Kirkus Reviews, starred review


"The multimedia artwork…is amazing, with photographs, collage etchings, and splatter art (example: a blue splash of paint transforms into a horse) mingling across vibrant spreads."—Booklist, starred review


"Stead's bits and pieces of drawing and observation, his willingness to lay bare his uncertainty, and his rough sketches of the natural world don't form a polished or seamless whole. Yet their very fragmentariness tells an important truth about the way artists begin to create."—Publishers Weekly, starred review

"It will reward those receptive to the notion that the world speaks to those who
listen."—The Horn Book
Roaring Brook Press, 9781626721814, 48pp.
Publication Date: March 1, 2016
About the Author
PHILIP C. STEAD is the author of the Caldecott Medal winning A Sick Day for Amos McGee, also named a New York Times Best Illustrated Book of 2010 and a Publishers Weekly Best Children's Book of 2010, illustrated by his wife, Erin E. Stead (A Neal Porter Book, Roaring Brook Press, 2010).  Philip, also an artist, both wrote and illustrated his debut Creamed Tuna Fish and Peas on Toast (Roaring Brook Press, 2009), which was applauded by School Library Journal for "its wry humor and illustrations worthy of a Roald Dahl creation."  Philip lives with Erin in Ann Arbor, Michigan.