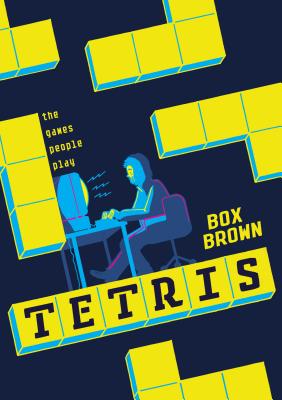 Tetris
The Games People Play
Paperback

* Individual store prices may vary.
Other Editions of This Title:
Prebound (10/11/2016)
Description
It is, perhaps, the perfect video game. Simple yet addictive, Tetris delivers an irresistible, unending puzzle that has players hooked. Play it long enough and you'll see those brightly colored geometric shapes everywhere. You'll see them in your dreams.

Alexey Pajitnov had big ideas about games. In 1984, he created Tetris in his spare time while developing software for the Soviet government. Once Tetris emerged from behind the Iron Curtain, it was an instant hit. Nintendo, Atari, Sega—game developers big and small all wanted Tetris. A bidding war was sparked, followed by clandestine trips to Moscow, backroom deals, innumerable miscommunications, and outright theft.

In this graphic novel,New York Times–bestselling author Box Brown untangles this complex history and delves deep into the role games play in art, culture, and commerce. For the first time and in unparalleled detail, Tetris: The Games People Play tells the true story of the world's most popular video game.
Praise For Tetris: The Games People Play…
Included in NYPL's "Notable 50 Best Books for Teens" list.

"The story never stops moving until its final pieces are in place."—New York Times

"One of gaming's most intriguing tales...A book to watch." —Nerdist

"[A] look at the creation of Alexey Pajitnov's enduring classic and the drama that ensues when people with big bags of money try to cash in the game's popularity." —Kotaku

"A rich read that provides valuable context for the rise of video games in the late 20th century." —A.V. Club

"This is a work about the bittersweet dissonances of artistic creativity and commercial greed and the ephemeral yet crucial joy we get from making things fall into place." —io9

"Against the backdrop of the Cold War, the saga of Tetris played out like a spy thriller—tragic deaths, corporate conspiracies, the prestige of nations hanging in the balance." —Boston Globe

"A clean and engaging visual style supports a story that sustains narrative drive, humanizing the characters and making readers care about every development. " —Kirkus, starred review

"Simply illustrated in a sequential panel format, the charming black-andwhite drawings convey high-concept ideas in a clever, succinct manner." —Booklist

"Tetris is a remarkably spare work, cleanly and effortlessly introducing countless real-life characters and companies that intersect and tangle together in a game of tug-of-war." —GQ

"It also cleverly mimics the structure of Tetris itself: straightforward and engaging, without any extra bells and whistles." —School Library Journal, starred review

"The blocky paneled illustrations are reminiscent of early video game graphics, and the compact text uses dialogue effectively to break up narrative sections and keep the unfolding drama personal rather than historically distant." —Bulletin of the Center for Children's Books
First Second, 9781626723153, 256pp.
Publication Date: October 11, 2016
About the Author
Box Brown is an Ignatz Award–winning cartoonist, illustrator, and comic publisher from Philadelphia. His books include the New York Times–bestselling Andre the Giant: Life and Legend, Tetris: The Games People Play, Is This Guy For Real?: The Unbelievable Andy Kaufman, Cannabis: The Illegalization of Weed in America, and Child Star. He is the illustrator (with writer Andrew S. Weiss) of Accidental Czar: The Life and Lies of Vladimir Putin.