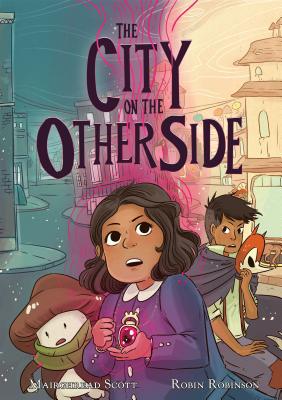 The City on the Other Side
Paperback

* Individual store prices may vary.
Description
In The City on the Other Side, a young girl stumbles into a pitched war between two fairy kingdoms, and the fate of San Francisco itself hangs in the balance!

Sheltered within her high-society world, Isabel plays the part of a perfectly proper little girl—she's quiet, well-behaved, and she keeps her dresses spotlessly clean. She's certainly not the kind of girl who goes on adventures.

But that all changes when Isabel breaches an invisible barrier and steps into another world. She discovers a city not unlike her own, but magical and dangerous. Here, war rages between the fairies of the Seelie and Unseelie Courts. Only Isabel, with the help of a magical necklace and a few new friends, stands a chance of ending the war before it destroys the fairy world, and her own.

From Mairghread Scott and Robin Robinson comes a colorful fantasy graphic novel set in early twentieth century San Francisco.
Praise For The City on the Other Side…
"[The City on the Other Side] is a story where there aren't many good or bad creatures, but instead good or bad choices, making this adventure a fun story with a warm heart."—Booklist

"Featuring a diverse cast of humans (brown-skinned Isabel and her family seem to be Latinx) and fairies, Robinson's colorful, dynamic artwork crackles with spirited fun and portrays San Francisco and its fairy-realm equivalent in broad, evocative panels."—Kirkus

"This will be a sure hit among Avatar: The Last Airbender readers, and it could also serve as a first-time foray into GNs for faerie fans."—The Bulletin of the Center for Children's Books

"Swirling, Art Deco–flavored artwork by Robinson...offers a wealth of fairy splendor. Scott...crafts a story that operates smoothly and stays taut...There's freshness in the nonwhite main roles—Isabel is Latina and Benjie is Filipino..."—Publishers Weekly
First Second, 9781626724570, 224pp.
Publication Date: April 24, 2018
About the Author
Mairghread Scott is an animation and comic book writer. Her animation includes Marvel's Guardians of the Galaxy, Ultimate Spider-Man: Web Warriors, and more. Her published books include Marvel Universe Guardians of the Galaxy, Transformers: Till All Are One, Transformers: Windblade, and Wonder Woman 75th Anniversary Special #1, as well as her graphic novels with First Second, The City on the Other Side and Science Comics: Robots and Drones.

Robin Robinson is a huge nerd who can be found crashing comic conventions up and down the West Coast with a booth full of colorful artwork. No One Returns from the Enchanted Forest is Robinson's author-illustrator debut, after drawing The City on the Other Side with writer Mairghread Scott. Robin lives in a house that looks like someone had a Halloween party in a library and forgot to clean up afterwards. The pet rats only add to this impression.