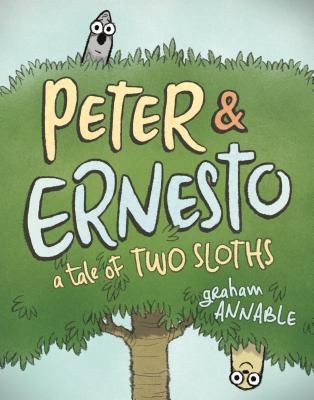 Peter & Ernesto (Hardcover)
A Tale of Two Sloths
First Second, 9781626725614, 128pp.
Publication Date: April 10, 2018
* Individual store prices may vary.
Description
Peter and Ernesto are sloths. Peter and Ernesto are friends. But Peter and Ernesto are nothing alike. Peter loves their tree and never wants to leave, while Ernesto loves the sky and wants to see it from every place on Earth. When Ernesto leaves to have a grand adventure, Peter stays behind and frets. The two friends grow even closer in separation, as Peter the homebody expands his horizons and Ernesto the wanderer learns the value of home. With ridiculously cute art and simple, funny text, their reunion is even more adorable than you are imagining.
Laika Studios superstar artist, writer, and director Graham Annable brings all his significant powers to bear on this timeless friendship story for the youngest graphic novel readers.
About the Author
Graham Annable is an Oscar-nominated cartoonist and animator living in Portland, Oregon, with his wife and two boys. He grew up in Canada, which did a good job of preparing him for the weather of the Pacific Northwest. Mr. Annable has done illustration and animation work for Laika, Dark Horse, LucasArts, Nickelodeon, and Walt Disney Productions, among many others. When he's not huddled inside of his house creating graphic novels for early readers, he spends the rest of his time working on feature films, animated shorts, video games, and indie comic books. He's rather fond of hockey and sloths. But never the two combined.Graham is the author/illustrator of Peter & Ernesto: A Tale of Two Sloths and The Book of Grickle.