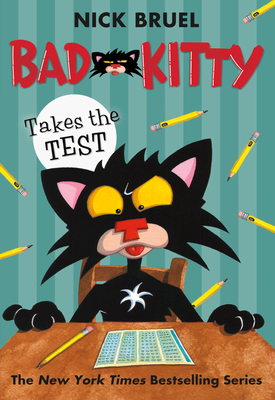 Bad Kitty Takes the Test (Hardcover)
Roaring Brook Press, 9781626725898, 144pp.
Publication Date: January 3, 2017
Other Editions of This Title:
Paperback (1/2/2018)
* Individual store prices may vary.
Description
It's something everyone has to do at least once. Kitty is no different. In this new edition of the beloved, bestselling Bad Kitty series from author-illustrator Nick Bruel, Bad Kitty takes. . . the test!
Based on her previous bad behavior, the Society of Cat Aptitude has determined that Kitty is not only a bad kitty but a bad cat. In order to redeem her feline status, Kitty must take an aptitude test to determine if she deserves to be a cat. If she fails, she will no longer be able to be a cat. With the help of Chatty Kitty, who is the instructor at Cat School, and Uncle Murray, who thinks he's just there to renew his driver's license, Kitty learns all about being a cat and a little about herself.
About the Author
Nick Bruel is the author and illustrator of New York Times bestseller Boing, Bad Kitty, Bad Kitty Gets a Bath and Bad Kitty Meets the Baby, among others. Nick is a freelance illustrator and cartoonist, and during his down time, he collects PEZ dispensers and grows tomatoes in the backyard. He lives in Tarrytown, NY with his wife Carina and their lovely cat Esmerelda.
Praise For Bad Kitty Takes the Test…
"Standardized-test companies may want to hurl hairballs, but the loopy humor and silly kitty cast will have fans purring with laughter."—Kirkus
"Bad Kitty fans will love the offbeat humor and bizarre situations in Bruel's newest book."—Booklist