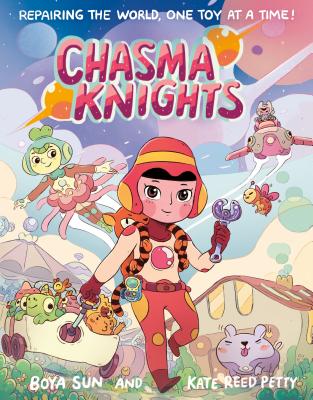 Chasma Knights (Hardcover)
First Second, 9781626726048, 128pp.
Publication Date: May 15, 2018
* Individual store prices may vary.
Description
Beryl lives in a world full of toys. But these aren't your ordinary toys—they're mechanical marvels that almost seem alive! And at the slightest touch, these toys "catalyze," that is, they merge with their owner and give them special abilities.
But not Beryl. She's a Neon Knight, and Neon Knights can't catalyze.
Beryl does have a special ability that no one knows about—she's an inventor who can turn a broken toy into an amazing, new creation. When a powerful Oxygen Knight named Coro discovers Beryl's secret workshop, she wants in on the fun. But can a Neon Knight and an Oxygen Knight ever get along? Find out in Boya Sun and Kate Reed Petty's Chasma Knights.
About the Author
Boya Sun is an illustrator and one of the artists behind the 5 Worlds graphic novel series. When not creating new toys for Beryl's workshop in the graphic novel Chasma Knights, Boya enjoys playing random songs on the guitar and experimenting with cooking.

Kate Reed Petty is a writer from Maryland. Her fiction and short films have appeared in literary journals like Nat. Brut, Ambit, and Narrative, which awarded her a "30 Below" award in 2014. In addition to fiction, Kate writes true stories as a freelance writer for do-gooders like Reboot, Chicken & Egg Pictures, and Friends of the High Line; in 2011, she helped launch an audio storytelling app with Electric Literature. She is a graduate of the College of William and Mary, where she was a member of the improvisational theater group I.T., and she earned a master's in fiction from the University of St. Andrews in Scotland. Kate lives in Baltimore, in a very old house that needs a lot of creative repairs—just like the Toy Cart in Chasma Knights.
Praise For Chasma Knights…
"Although the book is a stand-alone, do not be surprised if kids demand more adventures (and wish for a Toy of their own!) in this charmingly inventive world. Adorable and innovative."—Kirkus

"The pastel palette, rounded figures, and cute toys aplenty are all very appealing, and the gentle emphasis on STEM is a nice bonus."—Booklist

"This graphic novel features a bright palette, anime-esque character designs reminiscent of Steven Universe, and seamless, flowing panel work... A gorgeous work." —School Library Journal