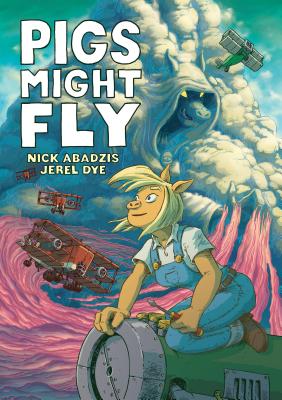 Pigs Might Fly (Hardcover)
First Second, 9781626727434, 208pp.
Publication Date: July 11, 2017
Other Editions of This Title:
Paperback (7/11/2017)
Prebound (7/11/2017)
* Individual store prices may vary.
Description
All the sensible hogfolk in Pigdom Plains know that if pigs were meant to fly, they'd have been born with wings—but there's no convincing Lily Leanchops. The daughter of renowned inventor Hercules Fatchops, Lily has watched her father's flying machines fail time and time again. Working in secret, Lily is trying to build what her father couldn't: an aircraft that actually works. And of course, she's following his example and employing scientific principals alone—not magic. (Well, a protection spell or two doesn't count, right?)
Lily's secret project takes on a new sense of urgency when a mysterious enemy emerges from beyond the mountains. The Warthogs are coming, and they're piloting flying machines powered by dangerous magic spells. To save Pigdom Plains, Lily must take to the skies in her own experimental aircraft—and there's no time for a test run.
Pigs Might Fly chronicles the adventures of a team of airplane-flying pigs, from knockout duo Nick Abadzis and Jerel Dye.
About the Author
Nick Abadzis has been creating comics and stories for both adults and children for nearly thirty years. As both cartoonist and writer, he's been honored with various international storytelling awards including an Eisner in 2008 for his graphic novel Laika. He is also an editorial consultant, corporate scribe and visual facilitator who has collaborated with large clients such as EY, KPMG, Accenture, Coca-Cola, IBM, General Electric, WOBI and many others.
He's been published in the USA by Condé Nast, First Second, Marvel Comics, Titan Comics, DC Comics, in the UK by the BBC, various national newspapers including The Guardian, The Times and The Independent, and other periodicals too numerous to mention; elsewhere in Europe by the likes of Dargaud and Glénat, and In Japan by Kodansha. He currently writes Titan Comics' ongoing monthly series, Doctor Who: The Tenth Doctor to great acclaim--several collections have now been published with more to follow. He is British but based in and around New York City where he lives with his wife and daughter.
Jerel Dye
is a cartoonist, illustrator, and artist living and working in the Boston area. He has been creating comics since 2010 and has produced several self-published mini comics and has created comics stories for anthologies like
Inbound, Minimum Paige, Hellbound
, and the award winning Little Nemo/Winsor McCay tribute
Dream Another Dream
. In 2012, he received the MICE comics grant for his mini-comic
From the Clouds
. Much of his art stems from a deep interest in science and technology though frequently contains a healthy dose of wonder. His illustrations have appeared in various fiction magazines, museum exhibitions, story books, and children's books. In 2015 his work was featured in the art book S
ketching from the Imagination: Sci-fi
. Jerel Dye received his BFA from Umass Dartmouth in Painting, and his MFA at MassArt in the Studio for Interrelated media. Jerel is also a freelance designer and teaches courses in drawing, cartooning and comics in Jamaica Plain, Massachusetts.
Praise For Pigs Might Fly…
"Abadzis (Laika) packs his story with porcine wordplay....but it's the rapid pacing, intense action sequences, and wealth of skilled female characters that will stick with readers." —Publishers Weekly

" This graphic novel is a visual feast, with vivid world-building details drawn into the vibrant illustrations...and effective use of panel formatting to speed or slow pace according to dramatic needs." —Bulletin of the Center for Children's Books

"Detailed artwork, vivid colors, and soaring action sequences breathe life into each moment of this hefty narrative. " —School Library Journal

"Follows in the trotters of fantasy comics past, which means it also acts as a nice primer for middle graders just starting out in the genre." —Kirkus
"Filled with aerial action, adventure, and magic." —GeekDad
Praise For Laika:
"A luminous masterpiece filled with pathos and poignancy." —Kirkus, starred review

"Vividly inked panels of Abadzis's art tell an impressively complex tale." —Publishers Weekly