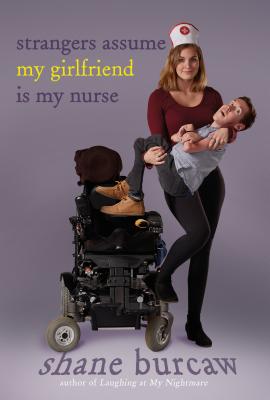 Strangers Assume My Girlfriend Is My Nurse (Hardcover)
Roaring Brook Press, 9781626727700, 208pp.
Publication Date: April 30, 2019
Other Editions of This Title:
MP3 CD (8/13/2019)
Paperback (1/1/2022)
* Individual store prices may vary.
Description
With his signature acerbic wit and hilarious voice, twenty-something author, blogger, and entrepreneur Shane Burcaw is back with an essay collection about living a full life in a body that many people perceive as a tragedy. From anecdotes about first introductions where people patted him on the head instead of shaking his hand, to stories of passersby mistaking his able-bodied girlfriend for a nurse, Shane tackles awkward situations and assumptions with humor and grace.
On the surface, these essays are about day-to-day life as a wheelchair user with a degenerative disease, but they are actually about family, love, and coming of age.
About the Author
Shane Burcaw is a twenty-something young adult with Spinal Muscular Atrophy and a wicked sense of humor. He lives in Minneapolis, Minnesota, where he runs a blog and nonprofit organization dedicated to providing medical equipment to people with muscular dystrophy diseases. He and his girlfriend are the duo behind Squirmy and Grubs, a YouTube channel that offers a behind the scenes look at their interabled relationship.
Praise For Strangers Assume My Girlfriend Is My Nurse…
"Equal parts humorous, tender, and insightful, the pieces give an unfettered look at Burcaw's life and the assumptions others make about living with a disability." - School Library Journal

"With the same frankness and gallows humor that marked his Laughing at My Nightmare (2014)... An accessible, smart-assed, and unexpectedly tender exploration of life, love, and disability." - Kirkus

"His capacity for self-reflection offers a good model for readers struggling to do the same, and his negotiation of independence will have resonance for many young people. People with disabilities still don't get the kind of #ownvoices space they merit, and Burcaw's voice makes him just plain good literary company in this approachable, enjoyable, and often edifying title." - Bulletin of the Center for Children's Books, Starred Review
"With uncompromised self-confidence and contagious humor, his no-holds-barred essays address some of the curious, quirky, and even intimate questions folks have about his condition... Written in his frank, often earthy, style, this will hold readers mesmerized." - Booklist

"Burcaw doesn't shy away from topics that might be considered delicate; instead, he emphasizes the awkwardness, celebrating highs and lows alike. Above all, [he] succeeds in illustrating that 'disability does not equal sadness.'" - Publishers Weekly

"Burcaw writes with humor and humility in the engaging, insightful collection of tales from his life. His anecdotes are candid and revealing-- all areas of his life are fodder for laughs and discussion." - VOYA