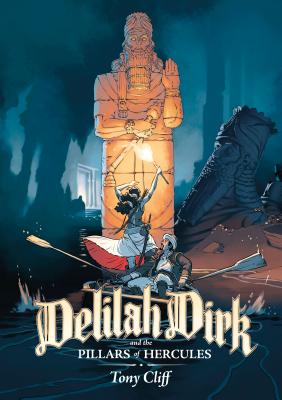 Delilah Dirk and the Pillars of Hercules (Paperback)
First Second, 9781626728042, 256pp.
Publication Date: August 7, 2018
Other Editions of This Title:
Prebound (8/7/2018)
* Individual store prices may vary.
Description
Having survived a close shave in England, where she was falsely accused of spying for the French, Delilah has set out with her companion Selim for more agreeable adventures in central Asia. But when she stumbles on an artifact that may be a clue about the location of the legendary third pillar of Hercules, Delilah and Selim are drawn back to Europe on an Indiana-Jones-style archeological caper that pits her against a ruthless enemy who is murderously intent on preventing Delilah from speaking out against him.
From vast forgotten underground cities to an elaborate and shocking double-cross, Tony Cliff's Delilah Dirk and the Pillars of Hercules brings all the drama and excitement that fans of the series crave.
About the Author
Tony Cliff – a life-long resident of Vancouver, British Columbia – began his comics work as a contributor to the Flight series of anthologies. His first major published work, Delilah Dirk and the Turkish Lieutenant, is a NYT Bestseller, a Publishers' Weekly Best of 2013, and was nominated for Eisner, Shuster, and Harvey awards. Delilah Dirk and the Third Pillar of Hercules will be the third book in the series, following 2016's similarly well-received The King's Shilling. He is strongly opposed to bios that conclude with one quirky attempt at humour.
Praise For Delilah Dirk and the Pillars of Hercules…
"Cliff's art is striking in both action scenes and in the choice of color palette, used to convey place, tone, and mood."—Kirkus

"Compelling writing combined with colorful illustrations makes this a book that is sure to delight." —School Library Journal

"Cliff has created an engaging and daring character that is equal parts Lara Croft and Indiana Jones." —Publishers Weekly

"Awesome two-page spreads capture the grandeur of their archaeological finds...Delilah's no-nonsense demeanor and dry sense of humor make her a joy to follow..." —Booklist

"This fun, fast-paced graphic novel is a pleasurable read... Excellent illustration tells the story and covers much of the action quickly and succinctly." —VOYA