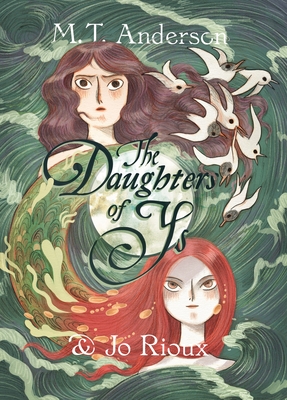 The Daughters of Ys
Hardcover

* Individual store prices may vary.
Description
An Atlantis-like city from Celtic legend is the setting of The Daughters of Ys, a mythical graphic novel fantasy from National Book Award winner M. T. Anderson and artist Jo Rioux.

Ys, city of wealth and wonder, has a history of dark secrets. Queen Malgven used magic to raise the great walls that keep Ys safe from the tumultuous sea. But after the queen's inexplicable death, her daughters drift apart. Rozenn, the heir to the throne, spends her time on the moors communing with wild animals, while Dahut, the youngest, enjoys the splendors of royal life and is eager to take part in palace intrigue.

When Rozenn and Dahut's bond is irrevocably changed, the fate of Ys is sealed, exposing the monsters that lurk in plain view. M. T. Anderson and Jo Rioux reimagine this classic Breton folktale of love, loss, and rebirth, revealing the secrets that lie beneath the surface.
Praise For The Daughters of Ys…
A YALSA 2021 Great Graphic Novels for Teens

"Like [M. T. Anderson's] National Book Award-winning The Astonishing Life of Octavian Nothing, this graphic novel is both accessible to a wide age range and rich with ideas that will intrigue adults... Jo Rioux's character designs—which reference fifth century Anglo-Saxon art—aren't just beautiful, they allow her to test the evocative possibilities of minimalist cartooning." —NPR, from "NPR's Favorite Books Of 2020"

"Anderson adds compelling depth to the story with just a few details beyond the original tale, and Rioux's lush, dense artwork, full of dynamic figures, swirling lines, dramatic angles, and colors that seem to glow, cultivates a fantastic, magical folk-tale atmosphere."—Booklist, starred review

"Anderson and Rioux have woven a lush folktale filled with magic, lust, and feminine power. Rioux's pencil illustrations are melancholic, with dramatic shadows, glowing moonlight, and swirling seas. ...A haunting rendering of an ancient folktale, packed with magic."—School Library Journal, starred review

"Anderson's [lyrical] version of the original lore...draws the reader into the eerie mystical world of Ys. Rioux's enchanting classical artwork employs rustic pencils in a romantic style that recalls Emily Carroll, and autumnal colors which harken back to Breton culture. Readers keen on Celtic mythology will appreciate this whimsical tale with a dark turn, with crossover for Anderson's teen fans likely."—Publisher's Weekly


"Rioux's graphics stress the magical effects and action elements of the folktale, with a shadowy, subdued palette and abundant, inventive sound effects. [Rioux and Anderson] transport us to a world that seems beyond language itself, a dangerous confluence of nature's forces."—Horn Book

"Intriguing and accessible, this thought-provoking tale will be new to many."—Kirkus
First Second, 9781626728783, 208pp.
Publication Date: August 11, 2020
About the Author
M. T. Anderson is the New York Times bestselling author of Feed (a National Book Award Finalist and winner of the L.A. Times Book Prize), The Astonishing Life of Octavian Nothing, Traitor to the Nation (winner of the 2006 National Book Award), and Symphony for the City of the Dead: Dmitri Shostakovich and the Siege of Leningrad (a Boston Globe/Horn Book Honor Book).

He is the author of the graphic novels: Yvain: The Knight of the Lion, with Andrea Offermann, and The Assassination of Brangwain Spurge (a National Book Award Finalist), with Eugene Yelchin. He lives in New England.
Jo Rioux is an author and illustrator of children's books. Since graduating from Sheridan College with a degree in illustration, she has created artwork for young adult books, chapter books, and picture books, but her biggest passion is comic books. She is the illustrator of M. T. Anderson's graphic novel The Daughters of Ys. Her fantasy trilogy, Cat's Cradle, debuted in 2022.

Jo lives in the lush suburbs of Ottawa, where she spends her time drawing, reading, teasing her dog, and spinning tales of magic and monsters.