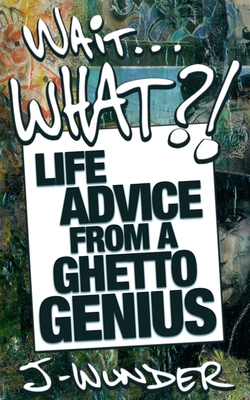 Wait ... What?!
Life Advice from a Ghetto Genius
Paperback

* Individual store prices may vary.
Description
Outrageous stories and no holds barred advice from the mind of a ghetto genius. J-Wunder's wit and honesty make
Wait...WHAT? Life Advice From A Ghetto Genius
a must-read book. His shocking tales and genius revelations reveal the absurdity of life and love and sex. --Elizabeth Jayne Liu, Head Homette,
Flourish in Progress
J-Wunder has shocked, entertained, and advised millions of visitors on his blog, Ghetto Genius, since 2010. WAIT...WHAT? collects the best and the most ridiculous stories, best-of lists, and advice columns, with never-before-seen insights into the wild life of J-Wunder and his partners in crime, Anonymous and The Ringer. Highlights include:
The epic saga of hooking up with Cat Woman - the craziest cat lady on Match.Com
The Hate List of Facebook (parts 1, 2, and 3): Everything we hate about the largest social network
The Daily Grind: advice and stories to encourage you to work hard and play even harder
Straight talking relationship advice, from the only guy willing to tell it like it is
Blogging taught J-Wunder not to take life too seriously, and sharing his misfortunes not only makes people laugh, but helps them with their own problems. Like a train wreck you can't look away from, WAIT...WHAT? LIFE ADVICE FROM A GHETTO GENIUS is filled with stories that are too hilarious and horrifying to be anything but true.
Diversion Books, 9781626811157, 144pp.
Publication Date: August 13, 2013