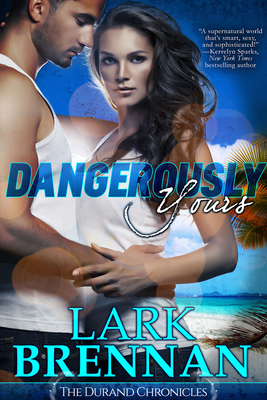 Dangerously Yours
The Durand Chronicles - Book One
Paperback

* Individual store prices may vary.
Description
The Caribbean: home to crystalline beaches, scorching passions, and a twisted power hell-bent on destruction. DANGEROUSLY YOURS is a sizzling paranormal romance in which love is not the only force of nature... Whales don't just vanish from the ocean, but marine biologist Lex Durand saw one do just that. With years of research at stake and driven by the imperatives of her telepathic bloodline, she seeks the help of scientist-in-hiding Bodie Flynn - a man with little regard for others, and even less regard for Lex's wealthy and secretive family. But while Lex was warned Bodie would be difficult, she never expects to find he has psychic abilities equal to her own. Bodie despises being trapped in Durand Tech's version of the witness protection program, and when a gorgeous, whip-smart Durand heiress lands on his beach asking for help, he's unhappier still. The last person he wants in his life is the sister of the man who ruined him, but the disappearance of Lex's whales could be related to the bizarre energy shifts he's been studying in the Caribbean. He doesn't trust Lex, but he needs her data, and isn't above using her to get it. As the dangerous force behind the changing seas becomes deadly, Lex and Bodie must put aside their personal agendas to track down a powerful foe. But when their attraction reaches a boiling point, facing their feelings may prove the hardest battle yet.
Diversion Books, 9781626818330, 254pp.
Publication Date: December 1, 2015