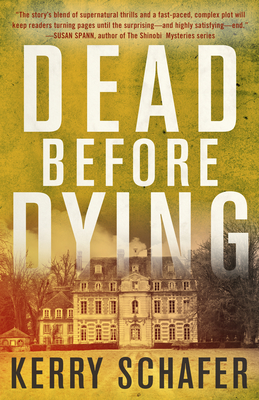 Dead Before Dying
A Shadow Valley Manor Novel
Paperback

* Individual store prices may vary.
Description
Twisting and eerie, sharp and unforgettable, DEAD BEFORE DYING brings a heroine worthy of Sue Grafton to a terror worthy of Dean Koontz. In this supernatural thriller, shot through with biting wit, Maureen Keslyn checks herself in to Shadow Valley Manor to recuperate and rehabilitate from her last job. There, she runs afoul of the stern director and makes friends with some of the other residents, mostly older, all harboring either a secret or a grudge. With secrets of her own, like why she has her own Federal Agent checking up on her, and how she injured herself in the first place, Maureen fits right in, even as she sticks out like a thorn. But Shadow Valley isn't just for rest--Maureen is working undercover, seeking to find and eradicate whatever forces are picking off the residents (and staff) at a grisly clip. With her resources dwindling one death at a time, and unnatural forces seething to rise up once more, Maureen's experience fighting the supernatural will be her only hope to destroy a clever and powerful evil--and her only chance at surviving it. She'll need people as paranoid as she is--from the sheriff, to the undertaker's daughter, to a cook whose knife skills in the kitchen could prove deadly out of it--if she is going to bring rest to the weary, and peace to the dead... "Kerry Schafer's new thriller, DEAD BEFORE DYING, is infused with delightfully dark humor and populated with a unique and compelling cast of characters; the story's blend of supernatural thrills and a fast-paced, complex plot will keep readers turning pages until the surprising--and highly satisfying--end. A brilliant start to one of the best and most unique series I've read in a very long time." --Susan Spann, author of The Shinobi Mysteries What do you get when you cross a supernatural thriller with a cozy mystery, set it in a nursing home, and top it off with a geriatric vampire? A deliciously spine-tingling read full of original characters and biting wit you don't want to miss, that's what " --Linda Grimes, author of the Ciel Halligan series A fun mystery with an amazing main character I loved. Very much recommended. --Alex Hughes, author of the Mindspace Investigations Series Creepy suspense, insidious evil, and things that go bump in the night infuse this story with thrills and chills all the way to a terrifying ending.--Nancy J. Cohen, author of The Bad Hair Mysteries "Schafer deftly balances the menace of unknown evil with a smart and tenacious band of heroes--led by one kick-ass heroine. DEAD BEFORE DYING is an engaging, sizzling start to a new series." --Tammy Kaehler, award-winning author of the Kate Reilly Mystery Series "What do you get when you mix paranormal thrills, a feisty middle-aged heroine, and a tantalizing mystery set in a creepy rest home? Kerry Schafer's DEAD BEFORE DYING Clever, fast-paced, and fun, Schafer weaves an irresistible tale sure to keep you reading far into the night." --Lisa Alber, author of KILMOON and WHISPERS IN THE MIST.
Diversion Books, 9781626819283, 236pp.
Publication Date: February 9, 2016