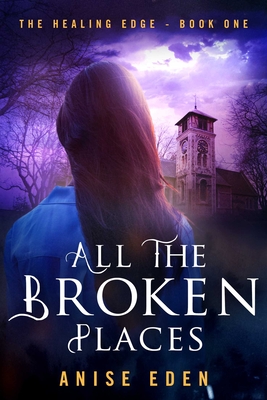 All the Broken Places (Paperback)
The Healing Edge - Book One
Diversion Books, 9781626819306, 262pp.
Publication Date: February 16, 2016
* Individual store prices may vary.
Description
Winner of the 2016 Paranormal Romance Guild Reviewer's Choice Award for Best Paranormal Romance/Suspense Series "Those with an interest in parapsychology will be fascinated by this artfully written series starter." --PUBLISHERS WEEKLY All of Cate's problems are in her head. That may be her greatest strength. Cate Duncan is a promising young therapist, dedicated to her work. But after her mother's suicide, she is seized by a paralyzing depression. To save her job, Cate agrees to enter a program with Dr. Angeline MacGregor, run by her stern son, Ben, and housed in a repurposed church. Cate doesn't quite understand what the program entails, but she soon learns that the skills she will develop there may not only help her learn how to cope with her own problems, but will also lead her to a much greater purpose. The MacGregor Group is a collection of alternative healers whose unconventional approaches include crystals, aura reading, and psychics. They know that their life's work invites skepticism, and welcome the chance to prove naysayers wrong. But they need the unique abilities that Cate can bring, and as she slides ever closer to her own abyss, they will do everything in their power to protect Cate from those who wish her harm--including herself. A powerful novel of suspense and a wildly inventive start to this paranormal romance series, ALL THE BROKEN PLACES engages readers with its striking blend of the supernatural and the psychological. "With the introduction of a charismatic group of alternative healers, Eden creates a unique world that readers will find fascinating."--RT BOOK REVIEWS "ALL THE BROKEN PLACES is not simply an engaging paranormal romance. Peopled with broken characters the reader wants to see mended, it tackles the subjects of mental health and suicide with empathy and grace." --Rosanna Leo, author of VICE.
About the Author
Anise Eden spends most of her time tucked away in her writing nook, imagining things that aren't there. On those rare occasions when she emerges from seclusion, Anise may be spotted in coffee shops, staring at her laptop screen and silently moving her lips as she reviews bits of dialogue. She may also be found standing in the middle of grocery store aisles, jotting down plot ideas on the back of her shopping list. Although Anise claims that she's the one in charge, the characters in her head do sometimes make her laugh out loud at inappropriate moments.