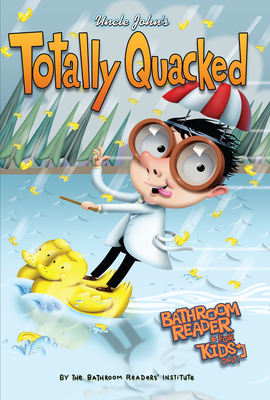 Uncle John's Totally Quacked Bathroom Reader for Kids Only! (Hardcover)
Portable Press, 9781626861756, 288pp.
Publication Date: September 9, 2014
Description
It's wacky and fun It's illustrated and easy to read It's a whole new twist on learning And it's FOR KIDS ONLY Inside Uncle John's Totally Quacked Bathroom Reader, curious readers find 288 pages packed with strange science, weird news, obscure history, odd sports, and the interesting origins of everyday things. Special to this edition are some amazing animal quack-ups, history's biggest quacks, ducky weather, fine feathered friends, quacky fashion, and things that are "Just Ducky" (which could mean really good or . . . soaking wet). And that's not all The newest fact-packed reader in the For Kids Only series features such topics as Thorrablot, an Icelandic holiday with all the rotten shark you can eat; Banned from Toy Stores: the Atomic Energy Lab science kit; Cooking with . . . Pooh and other Crappy Book Titles; Gag-inducing Stuff Found in Fast Foods; The World's Stupidest Apps; and Moonbows, Snowballs, and Fire from the Sky Lexile score: 920L

About the Author
A tight-knit group of loyal and skilled writers, researchers, and editors, The Bathroom Readers' Institute understands the habits of a very special market -- Throne Sitters -- and devotes itself to providing amazing facts and conversation pieces. They are headquartered in Ashland, OR, and San Diego.
Advertisement