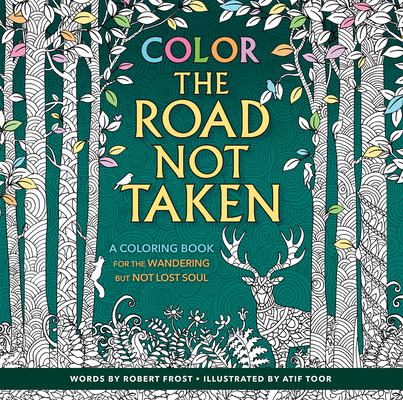 Color the Road Not Taken (Paperback)
Thunder Bay Press, 9781626868519, 96pp.
Publication Date: February 1, 2017
* Individual store prices may vary.
Description
Images diverge in this book and beg the traveler to leave no road uncolored!

Inspired by Robert Frost's poem "The Road Not Taken," this 96-page book gives you the opportunity to explore all the coloring paths your mind can take. You may leave some untrodden until another day, but you will make it back to traverse them all. Beautifully illustrated by Atif Toor, the 10" x 10" format offers plenty of space to follow your most creative avenue, and that makes all the difference.
About the Author
Robert Frost (1874–1963) was a critically acclaimed, highly popular American poet. He was awarded four Pulizer Prizes for poetry and served as the poet laureate of Vermont. His most famous works include "Stopping by Woods on a Snowy Evening," "Mending Wall," and "The Road Not Taken."

Atif Toor is an artist, designer and published author based in New York City. His intricate illustration style evolved from a love of line, pattern, and an interest in Islamic art. He earned a BFA degree in Graphic Design from the Rhode Island School of Design and works as a Creative Director with museums, non-profits, and cultural institutions.