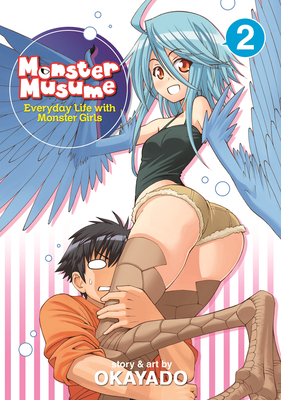 Monster Musume, Volume 2 (Paperback)
Seven Seas, 9781626920033, 192pp.
Publication Date: January 7, 2014
Description
A Monster Hit: #1 on the New York Times' Manga Best Sellers list
It's bad enough that Kimhito is stuck hosting not one, not two, but "three" sexy Monster Girls--and is forbidden by law to touch any of them, no matter how much they come on to him--but now, he's going to have to marry one of them Which will it be: the sensuous, serpentine Miia; Papi the Harpy, who has boundles enthusiaism and absolutely no personal boundaries; or the noble (and extremely busty) centaur, Centorea? Kimhito decides to get to know each one of these unearthly creatures a little better before he makes his choice--with disasterous results
And that's not all the strange and titillating world of Monster Girls has in store for our hapless hero. See what new adventures, mishaps, and fan service await Kimhito in Volume 2 of "Monster Musume.
About the Author
OKAYADO is a Japanese manga artist and author who is best known for Monster Musume.
Advertisement