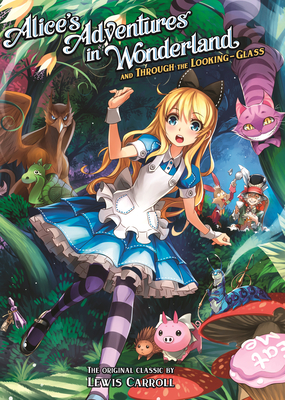 Alice's Adventures in Wonderland and Through the Looking Glass (Illustrated Classics) (Paperback)
Seven Seas, 9781626920613, 320pp.
Publication Date: August 19, 2014
* Individual store prices may vary.
Description
Seven Seas is pleased to present Alice's Adventures in Wonderland and Through the Looking-Glass, an all-new, lavishly illustrated omnibus collection that contains Lewis Carroll's original Alice in Wonderland novels.
For those who have never read Lewis Carroll's Alice novels, or for those who wish to revisit the beloved tales, this new edition of a perennial classic will appeal to today's reader who appreciates adorable manga-styled artwork. This 320-page collection contains all of Lewis Carroll's original text along with two full-color spreads and one hundred black-and-white full-page and spot illustrations.
Alice's Adventures in Wonderland and Through the Looking-Glass is a collection of stories featuring the titular character, Alice, and her misadventures through the curious and fantastical lands of Wonderland. As little Alice goes deeper and deeper down the rabbit hole, she meets an assortment of oddball characters, like the eccentric March Hare, the whimsical Mad Hatter, and the enigmatic Cheshire Cat, who will all become familiar faces within this strange world.
If Alice is to navigate the dangerous yet fascinating landscape of Wonderland, she must learn who is friend and who is foe, and use her good breeding and wits to find a way home.
About the Author
Charles Lutwidge Dodgson (1832-98), or Lewis Carroll as he was better known, was a lecturer in Mathematics at Oxford University when he wrote Alice in Wonderland (1865), and later Through the Looking-Glass and What Alice Found There (1871) for Alice Liddell. Mervyn Peake (1911-68) was an artist and writer. In addition to Treasure Island and The Rime of the Ancient Mariner, he also illustrated Household Tales by the Brothers Grimm and The Hunting of the Snark. His novels include the Gormenghast trilogy - Titus Groan, Gormenghast and Titus Alone - and Mr Pye.