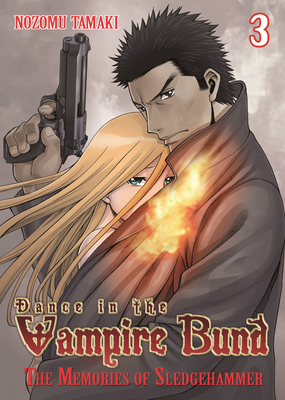 Dance in the Vampire Bund (Paperback)
The Memories of Sledge Hammer Vol. 3: Dive in the Vampire Bund
Seven Seas, 9781626920699, 192pp.
Publication Date: September 23, 2014
Other Editions of This Title:
Paperback (7/7/2009)
Paperback (8/19/2008)
Paperback (5/27/2008)
Paperback (5/7/2013)
Paperback (2/19/2013)
Paperback (10/2/2012)
Paperback (9/28/2010)
Paperback (7/5/2011)
Paperback (6/5/2012)
Paperback (1/3/2012)
Paperback (2/2/2010)
Paperback (11/25/2008)
* Individual store prices may vary.
Description
The conclusion to the three-volume series following the New York Times Bestseller Dance in the Vampire Bund!
Dance in the Vampire Bund: The Memories of Sledge Hammer is a three-volume interlude between Dance in the Vampire Bund's first fourteen volume story arc and the upcoming second part of the series, which will launch in 2014. The Memories of Sledge Hammer delves into the past to look at the doomed love affair of one of the Vampire Bund's most deadly operatives.
Three months have passed since Princess Mina, queen of all vampires, has recaptured the Bund. The damage inflicted to vampire/human relations runs deep, but a peaceful postwar restoration is now underway.
Yet appearances can be deceiving. Somebody is trying to kill government liaison Reiko Gotoh, but her lycanthrope bodyguard, Seiji Hama, is nowhere to be found. The mystery of Hama's whereabouts can only be solved by examining the past, when the ill-fated couple first met. The past may be the key to saving Gotoh in the present—and to the future of the Vampire Bund itself!
About the Author
Nozomu Tamaki is the stunning and original artist behind Dance in the Vampire Bund, Femme Kabuki, and Don't Meddle With My Daughter.
Praise For Dance in the Vampire Bund: The Memories of Sledge Hammer Vol. 3: Dive in the Vampire Bund…
"A wicked addition to the vampire action gang." —VAMPYRES ONLY
"An excellent modern day vampire story filled with action, intrigue and humor." —OTAKUGAIJIN.COM
or
Not Currently Available for Direct Purchase