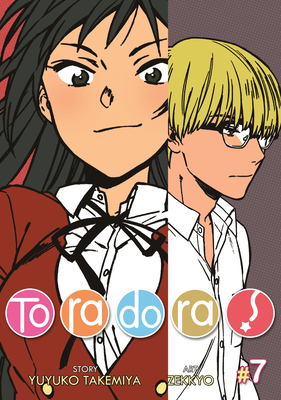 Toradora! Vol. 7 (Paperback)
Seven Seas, 9781626920965, 192pp.
Publication Date: June 30, 2015
* Individual store prices may vary.
Description
RUN, RYUUJI, RUN!

As part of Taiga's Ms Festival pageant routine, her deadbeat dad was supposed to stand up and be introduced to the audience. But as the fateful moment approaches, Taiga realizes her mistake in trusting the man, as her father proves to be a no-show. Taiga is crestfallen!

To rectify the problem, Ryuuji runs for Mr. Festival himself, literally. Winning a race filled with obstacles guarantees the victor the title of "Lucky Man" and earns him the right to dance with Ms. Festival at the closing festivities. Ryuuji knows that Taiga has never felt more abandoned, so he'll stop at nothing to stand by her side. But as Ryuuji approaches the finish line, another unexpected contender quickly closes the gap…!
About the Author
Yuyuko Takemiya is the author of Toradora!, Golden Time, and Evergreen.
Praise For Toradora! Vol. 7…
"A romance of warmth and humor with an uncanny ability to dodge the excesses of the genre while exploiting all the joys it has to offer." —Anime News Network

"A genuine, nuanced tale about friendship, love and family, pretty much unrivaled by its contemporaries." —Anime Diet

"Toradora! is a lot like it's subject matter: In turns hilarious, rambling, confused, charming, and foolish, but ultimately a worthwhile and heartwarming experience." —Anime-Planet