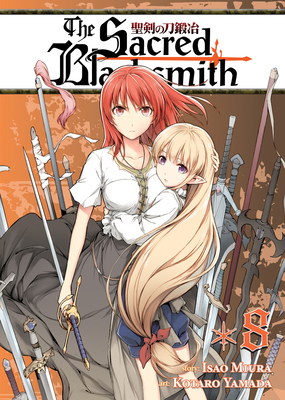 The Sacred Blacksmith Vol. 8 (Paperback)
Seven Seas, 9781626921627, 192pp.
Publication Date: July 14, 2015
* Individual store prices may vary.
Description
THE PRICE OF A BLADE
Trapped underneath Blair Volcano, Luke and Ewain find themselves inside an icy cavern where a mysterious sword stands firmly planted into the ground-until an earthquake dislodges the blade, hastening the breaking of Valbanill's seal and the legendary Inhuman's awakening. A replacement blade must be placed in its stead immediately, for Valbanill has already begun to stir...
The pair is saved by a rescue party led by Cecily, and Luke must make a choice: to either allow Cecily to become the Sacred Blade's Sheath and suffer the fate of her grandfather, or to forge a true, durable Demon Katana at great personal cost to both Lisa and Luke. Will Luke find the strength and courage to save the woman he loves, as he stands once more before the Inhuman Valbanill?
About the Author
Isao Miura is a Japanese writer best known as the author of The Sacred Blacksmith novels and manga.

Kotaro Yamada is the artist of The Sacred Blacksmith manga and Fire Emblem, a manga adaptation of the Nintendo game franchise.