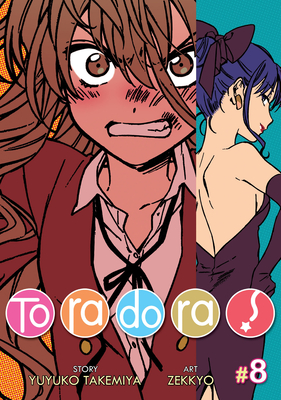 Toradora! Vol. 8 (Paperback)
Seven Seas, 9781626923713, 180pp.
Publication Date: September 11, 2018
* Individual store prices may vary.
Description
STUDENT COUNCIL CHAOS!
School elections are just around the corner! That should mean it's go time for Kitamura, but for some unknown reason, he's bleached his hair and is refusing to run for Student Council President. The drama sends Taiga into a flaming rage and it's not long until she is rampaging into classrooms and getting into fights. Just what is the Palmtop Tiger up to now?
About the Author
Yuyuko Takemiya is the author of Toradora!, Golden Time, and Evergreen.

Zekkyo is a Japanese manga artist and illustrator whose works include Jyutten! and Druid-San, Welcome.
Praise For Toradora! Vol. 8…
Praise for the Toradora! anime:
"A romance of warmth and humor with an uncanny ability to dodge the excesses of the genre while exploiting all the joys it has to offer." —ANIME NEWS NETWORK
"A genuine, nuanced tale about friendship, love and family, pretty much unrivaled by its contemporaries." —ANIME DIET
"Toradora! is a lot like it's subject matter: In turns hilarious, rambling, confused, charming, and foolish, but ultimately a worthwhile and heartwarming experience." —ANIME-PLANET