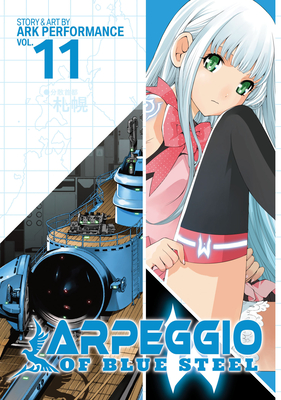 Arpeggio of Blue Steel Vol. 11 (Paperback)
Seven Seas, 9781626925434, 180pp.
Publication Date: September 5, 2017
Other Editions of This Title:
Paperback (11/5/2019)
Paperback (3/26/2019)
Paperback (8/21/2018)
Paperback (7/1/2014)
Paperback (8/4/2020)
Paperback (12/19/2017)
Paperback (5/2/2017)
* Individual store prices may vary.
Description
The popular science-fiction series of naval strategy and political drama continues!
It's been seventeen long years since the Fleet of Fog—a mysterious, unmanned fleet of powerful vessels that appeared out of nowhere—took control of the oceans, barring humanity from traveling between continents or islands.
Now, a weapon powerful enough to damage the Fog's vessels has finally been invented, and there's just one way of getting the critical information and prototypes from Japan to America, where the weapon can be produced. The submarine I-401, with its humanoid avatar—a "mental model" named Iona, who's taken the shape of a young girl—was once part of the Fleet of Fog, but has chosen to side with humanity. Captained by Chihaya Gunzo and his crew, the I-401 is the only ship under human control that can move freely through the seas. But she answers only to her captain, and he answers to no one.
About the Author
Ark Performance is a Japanese author/artist duo responsible for Arpeggio of Blue Steel with Seven Seas, as well as the series Samurai Commando; they are also a contributor to the Trigun: Multiple Bullets anthology.
Praise For Arpeggio of Blue Steel Vol. 11…
"[...] an interesting, exciting story of mysterious vessels and warfare on the high seas." - Rebecca Silverman, Anime News Network
"[...] an excellent mix of sci-fi and naval combat backed up with an exploration of human emotions through an entertaining cast of sentient battleships." - Richard Eisenbeis, Kotaku