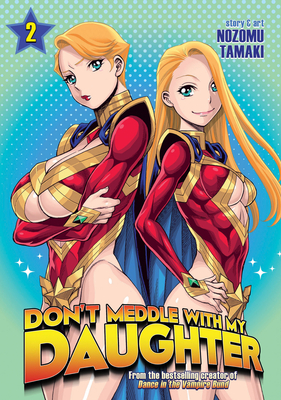 Don't Meddle With My Daughter Vol. 2 (Paperback)
Seven Seas, 9781626925854, 180pp.
Publication Date: November 28, 2017
Other Editions of This Title:
Paperback (8/29/2017)
Paperback (3/27/2018)
* Individual store prices may vary.
Description
A BLAST FROM THE PAST
Years ago, a masked hero known as "B.M. the Shooter" died defending millions of citizens–including his wife, the Eighth Wonder, and their unborn child, Clara. Now, both mother and daughter are on the defense against a villain with the same powers. Who is this mysterious gunman? And will Clara ever learn her mother's true identity?
About the Author
Nozomu Tamaki is the stunning and original artist behind Dance in the Vampire Bund, Femme Kabuki, and Don't Meddle With My Daughter.
Praise For Don't Meddle With My Daughter Vol. 2…
"This three-volume manga series is a raunchy spoof on the Western-style superhero genre that gleefully revels in its lewdness while sticking firmly to superhero-style drama. [...] The artistry in general is crisp and appealing, with nice background details and unusually strong use of shading."
--Theron Martin, Anime News Network
"Did you enjoy Bomb Queen? Do you want a darker, less satirical version of Empowered? Here's your book."
--Al Sparrow, ComicSpectrum