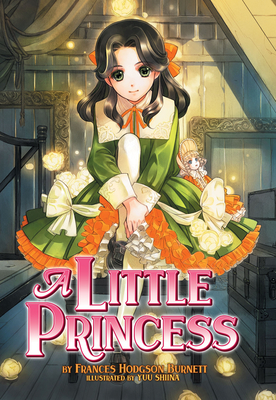 A Little Princess (Illustrated Classics) (Paperback)
Seven Seas, 9781626926110, 400pp.
Publication Date: November 21, 2017
Other Editions of This Title:
Paperback (3/29/2018)
Paperback (8/12/2018)
Paperback (3/16/2017)
Paperback (8/15/2018)
Paperback (9/11/2017)
Paperback (3/4/2014)
Paperback (7/9/2018)
Paperback (8/20/2017)
Paperback (2/27/2020)
Paperback (11/30/2019)
Paperback (7/2/2018)
Paperback (1/30/2015)
Paperback (7/2/2018)
Paperback (1/19/2013)
Paperback (10/28/2017)
Paperback (3/19/2020)
Paperback (6/6/2020)
Paperback (11/22/2018)
Paperback (5/1/2020)
* Individual store prices may vary.
Description
REVISIT THE HEARTRENDING HALLWAYS OF MISS MICHIN'S BOARDING SCHOOL IN THIS NEW, ILLUSTRATED EDITION OF A BELOVED CLASSIC.
Seven-year-old Sara Crewe learns of the tragic death of her father not long after she is left in the care of Miss Michin, headmistress of a boarding school. Now an orphan and stripped of her family fortune, Sara must survive the emotional trials of loss and the mental anguish of abuse at the hands of her new caretakers.
With her new friends, warm memories, and a prized doll—a gift from her Father—Sara Crewe weathers the storm of her new life with spirit, courage, and kindness.
About the Author
Frances Hodgson Burnett, (November 24, 1849 - October 29, 1924) was an English–American playwright and author. She is best known for her children's stories, in particular The Secret Garden, A Little Princess, and Little Lord Fauntleroy.

Shiina Yuu is a Japanese artist who has illustrated dozens of novel adaptations, light novels, and manga series. She is the illustrator of the Seven Seas's manga illustrated classic edition of A Little Princess.