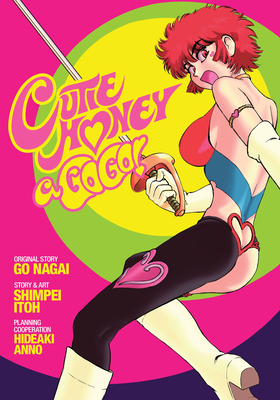 Cutie Honey a Go Go! (Paperback)
Seven Seas, 9781626926134, 400pp.
Publication Date: March 27, 2018
* Individual store prices may vary.
Description
THE FAMOUS CRIMSON-HAIRED, BUTT-KICKING ANDROID RETURNS IN THIS VIBRANT REIMAGINING OF THE GO NAGAI CLASSIC!

Tokyo is under siege by the terrorist organization known as Panther Claw, and the beautiful superheroine android known as Cutie Honey arrives to take them on--and fails! Cutie Honey must now join forces with government agent Natsuko Aki, as the duo pose as student and teacher at St. Chapel Academy. But there is nowhere to hide from Panther Claw and its leader's evil machinations!

From the creators of Devilman and Neon Genesis Evangelion!
About the Author
Go Nagai is one of the most well-known names in manga. With a career spanning almost 50 years, he is responsible for the creation of many popular series including Devilman, Cutie Honey, Mazinger Z. and Getter Robo.

Anno Hideaki is a Japanese manga author best known for Cutie Honey A Go Go! and Comic Gunbuster.

Itou Shinpei is a Japanese manga artist best known for Cutie Honey A Go Go! and Moldiver.