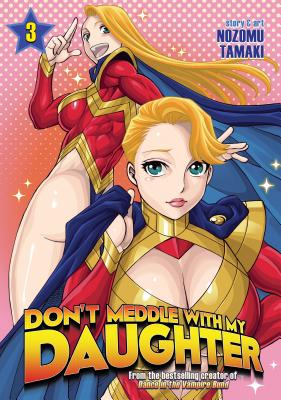 Don't Meddle With My Daughter Vol. 3 (Paperback)
Seven Seas, 9781626926929, 180pp.
Publication Date: March 27, 2018
Other Editions of This Title:
Paperback (8/29/2017)
Paperback (11/28/2017)
* Individual store prices may vary.
Description
FAMILY FEUD
Athena has been captured by a former ally! Yet that's not the only betrayal in store for her. Athena's friend Artemis has been turned into a pawn controlled by pleasure--and it is only a matter of time until the same fate befalls the original Eighth Wonder. When Clara shows up to save the day, she's in for a big surprise. The foe standing in her way isn't an enemy. It's her mom!
The final volume of the super-sexy superheroine manga series has arrived!
About the Author
Nozomu Tamaki is the stunning and original artist behind Dance in the Vampire Bund, Femme Kabuki, and Don't Meddle With My Daughter.
Praise For Don't Meddle With My Daughter Vol. 3…
"This three-volume manga series is a raunchy spoof on the Western-style superhero genre that gleefully revels in its lewdness while sticking firmly to superhero-style drama. [...] The artistry in general is crisp and appealing, with nice background details and unusually strong use of shading."
--Theron Martin, Anime News Network
"Did you enjoy Bomb Queen? Do you want a darker, less satirical version of Empowered? Here's your book."
--Al Sparrow, ComicSpectrum