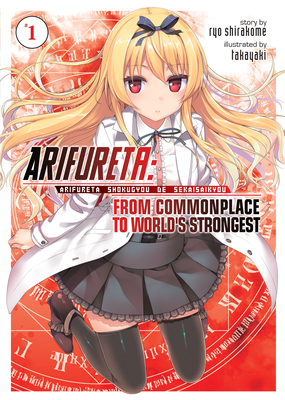 Arifureta (Paperback)
From Commonplace to World's Strongest (Light Novel) Vol. 1
Seven Seas, 9781626927681, 420pp.
Publication Date: February 6, 2018
Other Editions of This Title:
Paperback (12/3/2019)
Paperback (7/9/2019)
Paperback (9/10/2019)
Paperback (9/3/2019)
Paperback (4/2/2019)
Paperback (3/13/2018)
Paperback (6/25/2019)
Paperback (12/18/2018)
Paperback (7/3/2018)
Paperback (8/7/2018)
Paperback (5/15/2018)
Paperback (11/27/2018)
Paperback (1/21/2020)
Paperback (1/7/2020)
* Individual store prices may vary.
Description
The bestselling fantasy light novel comes to print for the first time--now with an anime series!
Seventeen-year-old Hajime Nagumo is your average, everyday otaku. However, his simple life of pulling all-nighters and sleeping in school is suddenly turned upside down when he, along with the rest of his class, is summoned to a fantasy world! They're treated like heroes and tasked with the duty of saving the human race from utter extinction. But what should have been any otaku's paradise quickly turns into Hajime's nightmare.
While the rest of his class are blessed with godlike powers, Hajime's job, Synergist, only has a single transmutation skill. Ridiculed and bullied by his classmates for being weak, he soon finds himself in despair. Will he be able to survive in this dangerous world of monsters and demons with only a glorified blacksmith's level of strength?
About the Author
Ryo Shirakome is a Japanese author best known for Arifureta: From Commonplace to World's Strongest.

Takaya-ki is a Japanese artist best known for their illustrations in Arifureta: FromCommonplace to World's Strongest.
Praise For Arifureta: From Commonplace to World's Strongest (Light Novel) Vol. 1…
"...Hajime has to learn how to become superpowered and how to become a hero all on his own. It's a good twist on the genre conventions and really points out (through the parallel character of the class prince) that just having the powers isn't enough to make you a real warrior, much less hero." --Rebecca Silverman, Anime News Network