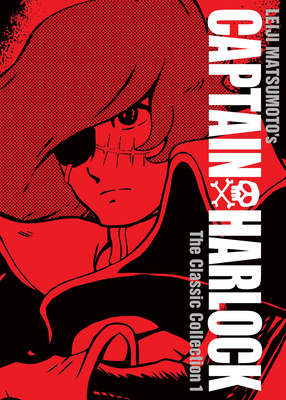 Captain Harlock (Hardcover)
The Classic Collection Vol. 1
Seven Seas, 9781626927704, 400pp.
Publication Date: June 12, 2018
* Individual store prices may vary.
Description
The original Captain Harlock series, introducing one of the most revered and recognizable characters in science fiction history—released in English for the first time!

Introducing Captain Harlock, the fiercely independent space pirate who fights totalitarianism in every corner of the Universe. When a mysterious alien force invades Earth, teenager Tadashi Daiba joins up with the only people brave enough to defend the planet: Captain Harlock and his ragtag crew of renegades! Aboard the space battleship Arcadia, Harlock sets forth to uncover the truth behind the beautiful extraterrestrial women taking over his home planet.
"Harlock leads the way to a world of new ideas."
—James Cameron (Film Director)
About the Author
Leiji Matsumoto is one of Japan's most influential manga creators. He is best known for Galaxy Express 999, Captain Harlock, and an animated collaboration with Western musical duo, Daft Punk.
Praise For Captain Harlock: The Classic Collection Vol. 1…
"...showing off a creator at the height of his powers." --Sean Gaffney, A Case Suitable For Treatment (Manga Bookshelf)
"There's a reason why [Leiji Matsumoto]'s the king of the space opera, and this extra-long volume does a good job showing us why." --Rebecca Silverman, Anime News Network
"Captain Harlock continues to inspire both readers and story creators throughout all of humanity, and this collection demonstrates many of the strengths that lie within both its setting and characters. If anything, the original series serves as a great reminder of what we should continue to do both for ourselves and the greater good: 'Under your flag, live free.'" --Boston Bastard Brigade