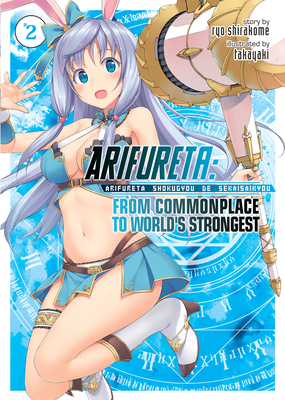 Arifureta (Paperback)
From Commonplace to World's Strongest (Light Novel) Vol. 2
Seven Seas, 9781626927803, 380pp.
Publication Date: May 15, 2018
Other Editions of This Title:
Paperback (12/3/2019)
Paperback (7/9/2019)
Paperback (9/10/2019)
Paperback (9/3/2019)
Paperback (4/2/2019)
Paperback (3/13/2018)
Paperback (2/6/2018)
Paperback (6/25/2019)
Paperback (12/18/2018)
Paperback (7/3/2018)
Paperback (8/7/2018)
Paperback (11/27/2018)
Paperback (1/7/2020)
Paperback (1/21/2020)
* Individual store prices may vary.
Description
DOWN THE RABBIT HOLE
The Great Orcus Labyrinth lies vanquished–Hajime and Yue return triumphant to the surface. Unfortunately, it's only the first step on a long journey back home to Earth, and there's no rest for the weary. A bunny girl named Shea Haulia appears, declaring that she has seen the future: only Hajime can save her tribe from extinction! Hajime's no hero, but maybe he'll play the part, just this once…
About the Author
Ryo Shirakome is a Japanese author best known for Arifureta: From Commonplace to World's Strongest.

Takaya-ki is a Japanese artist best known for their illustrations in Arifureta: FromCommonplace to World's Strongest.
Praise For Arifureta: From Commonplace to World's Strongest (Light Novel) Vol. 2…
"...Hajime has to learn how to become superpowered and how to become a hero all on his own. It's a good twist on the genre conventions and really points out (through the parallel character of the class prince) that just having the powers isn't enough to make you a real warrior, much less hero." --Rebecca Silverman, Anime News Network