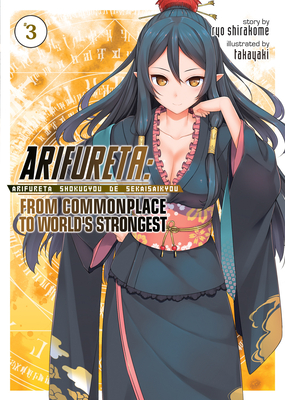 Arifureta (Paperback)
From Commonplace to World's Strongest (Light Novel) Vol. 3
Seven Seas, 9781626928459, 380pp.
Publication Date: August 7, 2018
Other Editions of This Title:
Paperback (12/3/2019)
Paperback (7/9/2019)
Paperback (9/10/2019)
Paperback (9/3/2019)
Paperback (4/2/2019)
Paperback (3/13/2018)
Paperback (2/6/2018)
Paperback (6/25/2019)
Paperback (12/18/2018)
Paperback (7/3/2018)
Paperback (5/15/2018)
Paperback (11/27/2018)
Paperback (2/18/2020)
Paperback (6/9/2020)
* Individual store prices may vary.
Description
LET'S GET TO IT, THEN!
After clearing the Reisen Labyrinth, Hajime, Yue and Shea make for the independent city-state of Fuhren, where they get roped into helping the adventurer's guild look for a missing person, leading to an unexpected reunion with someone Hajime thought he'd never see again. But that's not the only surprise encounter ahead of our hero! Soon after, the party has a run-in with a black dragon, one of the most powerful creatures in the world–and it seems like she might have a thing for Hajime, too!
About the Author
Ryo Shirakome is a Japanese author best known for Arifureta: From Commonplace to World's Strongest.

Takaya-ki is a Japanese artist best known for their illustrations in Arifureta: FromCommonplace to World's Strongest.
Praise For Arifureta: From Commonplace to World's Strongest (Light Novel) Vol. 3…
"...Hajime has to learn how to become superpowered and how to become a hero all on his own. It's a good twist on the genre conventions and really points out (through the parallel character of the class prince) that just having the powers isn't enough to make you a real warrior, much less hero." --Rebecca Silverman, Anime News Network